Remake of the American cult film ' The Italian Job', Players is about a master thief (Abhishek Bachchan) with a childhood friend (Aftab Shivdasani), their teacher (Vinod Khanna) and his righteous daughter (Sonam Kapoor). Abhishek wants to fulfill Vinod Khanna's dream of building an orphanage which will absolve him of his sins as a thief. So he puts together a team of "Players" – a Magician with a tragic past (Bobby Deol), a partially deaf weapon's expert (Sikander Kher), a seductress who apparently also knows how to build train engines (Bipasha Basu), a 'hungry for appreciation' make up artist (Omi Vaidya) and a sadistic computer hacker (Neil Nitin Mukesh).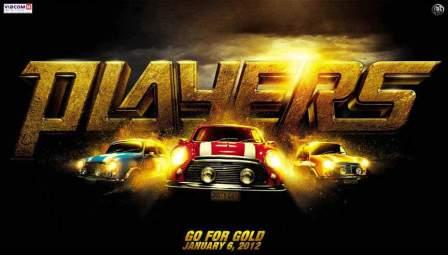 The childhood friend sacrifices his life to pass on information about Rs. 10,000 crores worth of gold, which is later published in national newspapers anyway. The crew comes together, carries out the theft, hacker turns rogue, tries to kill the crew, doesn't succeed, gets hunted down, the double crosses come to light, the righteous daughter avenges her father's death and they live happily ever after. All this happens, in SUPER SLOW MOTION.
Abhishek and Bipasha still have the Dhoom 2 hangover, Omi Vaidya is funny, Neil and Sikander do justice to their roles, whereas Bobby and Sonam are dull. Music is average and hardly lingers.
Players Movie Review
Players is unintentionally funny. Needless to say, there are some scenes in the movie that leave you bewildered, but definitely not asking for more.
A gold heist in Russia is planned and carried out by a few Indians with remarkable ease while the super powerful Russian Mafia knows and does nothing about it. Subsequently, all the loot reaches New Zealand and authorities or the mafia doesn't seem to know of it!
It takes only 10 minutes to steal Rs. 10,000 crore worth of gold in the form of solid bricks from a super fast moving train. Seriously?
Johnny Lever builds three car bodies out of 'real gold' in a matter of few hours!
Abhishek Bachchan can stroll in the jails as if they are his own gardens! And he can singlehandedly blast through a high-tech security system in a van.
I think I should not give away any more surprises that 'Players' holds in store for you. Sonam, please pick better films. Mausam was a bigger dud! We know you can. Abbas-Mustan – you guys should consider retirement instead of ripping of Hollywood films mindlessly.