We have several talked-about and some not-so-talked-about celebrity couples in B-town. Let's have a look at some of bollywood's Hottest Celebrity Couples and see why they rock.
1. Shahrukh and Gauri:
Undoubtedly, they are Bollywood's best-known couple. It now seems implausible that they may never have got married – but that was what nearly happened. Shahrukh wooed Gauri for a long, long time and even after he had 'pataoed' Gauri, the big question of inter-caste marriage (in the 1980s it was definitely frowned upon) remained to be addressed. Gauri's parents were dead against the marriage and after seven years of trying to convince and impress his future in-laws, Shahrukh and Gauri married against the wishes of the bride's family. Today, after almost two decades of marriage, Shahrukh looks as much in love with her, as any gawky teenager who's had his first crush. The official king and queen of Bollywood rock, their love has endured through all the stresses and strains of a celebrity's life, proving that true love does exist among the celebs. Their chic dressing style and drop-dead gorgeous looks, combined with their evergreen love have made the foremost couple in Bollywood.
2. Hrithik and Suzanne: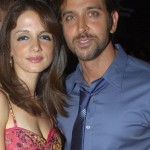 Easily, one of the best looking pair and the most stable relationship in B-town, the Hrithik-Suzanne marriage has survived several rumors of break-ups and link-ups. The Barbara Mori hoopla created news for several months and died its natural death. The marriage today stands rock solid. On December 20 2010, they celebrated ten years of a successful marriage. Though they were rumored to be childhood sweethearts, as per Hrithik's "testimony" he fell in love when he saw her at a traffic signal post her arrival from USA where she was completing her under-graduate degree. Love followed, and when they decided to marry, was a union of two of Bollywood's best known film industry families. They have steered clear of Bollywood controversies and politics and while she is a successful interior designer he continues to give us great performances.
3. Kajol and Ajay:
They looked like chalk and cheese and apart from their unconventional, dark and dusky looks, they seemed to have little in common.  When Kajol announced her plans to marry the serious looking Devgan, fans had their misgivings. Though they are said to move in different friend's circles and their personal interests tend to differ, they seem to have done pretty well together. Two kids and more than a decade later, they look happy and contended in their lives. Not only do they complement each other professionally, they also respect each other's sense of individuality. This is a made for each other jodi for you.
4. Aishwarya and Abhishek: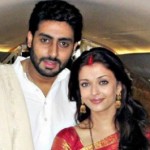 Nobody, absolutely nobody had thought of this, unless of course it happened. Abhishek had his share of affairs and link-ups, and almost got married once. Aishwarya, on the other hand had a long standing relationship with Salman Khan and then a shorter dalliance with Viveik Oberoy. Once these had fizzled out, Aishwarya's growing affinity with Abhishek made headlines.  Their marriage was a low-key affair (by their standards), and they have presented themselves as the doting couple ever-since. Aishwarya changed the way heroines were supposed to handle their career. Like Kajol, she married when she was at the pinnacle of success, but unlike the senior actress, Aish has continued to work just like she was doing before her marriage. In fact, her post-marriage movies have brought her much praise and adulation. The couple stands loyal and beautiful and even their unconventional age-gap (Aishwarya is about two years elder to Abhishek) has not made an iota of difference in their lives. She has also proven to be the ultimate good "bahu" by seamlessly adjusted into the Bacchhan joint family.
5. Akshay Kumar and Twinkle Khanna:
Akshay was the flamboyant playboy and Twinkle was the daughter of two superstars who had parted ways hurriedly and bitterly. Akshay had been linked to almost every gorgeous actress he had worked with .. most of the alleged link-ups were true and the number of his affairs and then break-ups were increasing with each passing movie. Mentionable relationships of Akshay and his "heroines" include the names of Raveena Tandon, Shilpa Shetty and Pooja Batra. When Akshay (real name, Rajiv Bhatia) announced his engagement and subsequent marriage to Twinkle (real name, Tina), people had their reservations. With bated breath, media waited for disagreements to surface or the new link-ups of Akshay to take their toll on the marriage. Time and again, people suggested that Akshay won't be able to stay on for long. Proving everybody wrong Akshay and Twinkle celebrated their tenth marriage anniversary this year, with their son Aarav. Akshay plays the doting father, the still-in-love hubby and the perfect son-in-law (to superhot mom-in-law, Dimple), to the tee. There have been no further dalliances on his part, and gossip columnists are beginning to believe that this really is a good marriage.
6.       Kareena and Saif:
A Nawab and a Kapoor girl, unlikely mates these. Kareena was supposed to be madly in love in Shahid. Saif, who had discovered a new single-dom post his separation from ex-wife Amrita Singh and girlfriend Rosa, was very much single and ready to mingle. Somewhere, something happened and the Kareena-Shahid camp broke up. Kareena wasted no time and was spotted coochie-cooing with junior Pataudi. This was in 2007. For almost four years now, they have been the quintessential lovebirds of Bollywood. In fact, they've been more than that. Never before in B-wood have we seen such open display of love and affection and open admission of their relationship. Marriage is still a topic that draws a blank with the couple, especially questions about when it will happen … but it is very much on the cards, though way into the future. Their open live-in partnership no longer raises eyebrows, and the world accepts it as a common occurrence.
7.       Shilpa and Raj Kundra:
Shilpa Shetty, the actress who rose like a phoenix, reinventing herself when everyone seemed to have written her off, found the prince of her dreams in Raj Kundra. Shilpa, who does not have much to show for her Bollywood career, re-emerged when the show Big Brother hit headlines. It was destined that events happened in the right manner from then onwards. Invited to meet the Queen of England herself, Shilpa herself became  royalty of sorts.  After that work flowed in, in the form of Bigg Boss in India, and several entrepreneurial ventures later, Shilpa had arrived. Marriage to the very eligible and immensely-rich Raj Kundra only made things better. They have been together for almost three years now. Looking lovely together, they spell the perfect couple whether it's at their IPL cricket team's meet, or at their own marriage anniversary.
8.       Arbaaz Khan and Malaika Arora Khan: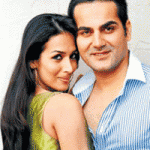 Arbaaz Khan was not known much, at least not by the general public… but Malaika was a big name in the fashion and modeling industry. Once they fell in love, there was no turning back and though tongues wagged when Malaika left her hot and happening career to settle down in matrimonial bliss, they have been together for 12 years now, and even today theu look happy and in love. A great attribute about their marriage is the complete compatibility and the ease with which they accept each other's individuality and careers. Recently they came together professionally in Arbaaz's production Dabangg where Malaika gyrated to "Munni..".
9.  John Abraham and Bipasha Basu:
She's hot and he's sexy. Together they set the frame on fire. That's Bipasha Basu and John Abraham for you. Both of them hail from a modeling background but have found considerable success and critical acclaim in Bollywood. Bipasha is your strong-headed Bengali girl, while John is cooler, calmer and grounded. They fell in love soon after Bipasha's long-time relationship with ex-boyfriend Dino Morea, nosedived. They are said to be one of the coolest and private couples in Mumbai. Though they make public appearances together, they usually remain reserved about their relationship. Their amazing good looks combined with their on-screen charisma make them one of Bollywood's favorite couples.