"What! A Bikini?!!" That's what one normally expects to hear from an average Indian (men and women). Modern India and much of South Asia have very conservative views about sex and sensuality. Sex is mostly considered a taboo subject (even though it is one of the most searched terms in the Indian subcontinent). Sex education is rarely given in Indian schools and parents draw confused faces when questioned on the subject by their children.
But in Bollywood, the rules are slightly different and exceptions pretty much prove the rule. Whether it is flaunting hot bodies or an artistic approach to lines and curves, showing off one's body is a different question altogether. However, there's not much room for voluptuous curves full of fat in the bikini which makes it a clear judge of hotness and perfection. It stays niche, kept aside for the toned and tight; chiefly, star actresses who work hard to maintain a divine set of assets, top to bottom, and can gracefully carry themselves out. If you can look good in a bikini, you are hot. Period.
Before we discuss the list, some background is essential so that you know where we are coming from.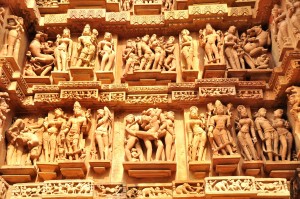 The History of Sex in India – Khajurao and Kamasutra
India's ancient traditions in regard to sex and sensuality have been so liberal and 'modern', you might be amazed. The famous Khajurao temples, which were built in the 10th and 11th century AD, are known for their erotic sculptures. The sculpture on these temples depict medieval people in erotic postures. Why did the kings of that era create such temples? Didn't it go against our religious and spiritual growth? Read this Wiki on Khajurao Temples to know more.
Another famous example of Ancient India's sexual heritage is the Kamasutra – a doctrine on the subject and practice of sex. One of most exhaustive works on sexual intercourse, the present form of the text was compiled in the second century BC by Vatsyayana. Read this wiki for some history and this link to download the text.
You might also want to read the history of sex in India for a clearer picture.
The art of dropping clothes in Bollywood
Today, celebrities and models have finally perfected the art of dropping clothes in their films. Even if it for drawing fans to their movies, stars are seldom hesitant to reveal their bodies. "Jo bikta hai, wohi chalta hai" is the motto and no one seems to be complaining (except for some extreme political factions, of course).
Almost every film has a masala item number – Munni Badnaam was hot a few days back before Sheila Ki Jawaani came and garnered the top spot on chartbusters. Watch the video of Sheila Ki Jawaani. Now we have Deepika Padukone doing a raunchy item number in Dum Maro Dum.
Bollywood fans would give their right eye to see superstars on the beach in bikinis. Casual surveys put Kareena Kapoor on top almost every time. That's the peoples' opinion; however, a check on personal preferences brought up names that ended the stereotyped idea of being paper-thin to fit into a bikini. The modern bikini fits some retro stars as good if not better; they are enough splashes in spice to turn bleak an entire bikini-bevy of modern beauties. Among the modern, yet-not-so-known, Minissha Lamba certainly has the wow factor as much as the petite, popular babe, Deepika Padukone. She, of course, looks good in almost everything; and intoxicatingly drooling in twin packs.
Top 10 Bollywood Bikini Babes
1. Shilpa Shetty
Though Urmila's steamy lushness (Rangeela, Daud) created enough waves for the current bikini craze, but the pack is still led by Shilpa Shetty. This true stunner still has the ravishing factors slamming hard. Shilpa has been in the industry for almost 20 years now and even if she does not come in movies, she has her television acts going on. Shilpa Shetty last shot to fame for her win in the popular British reality show, Big Brother.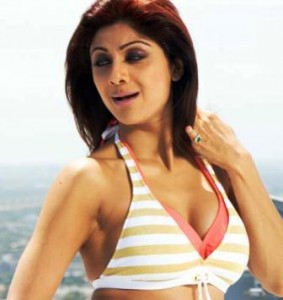 2. Kareena Kapoor
Those who saw her flaunt in Tashan move on to the next point; for the rest, she's an entire package of charisma wrapped in attitude. Kareena Kapoor came as a demure and not so hot chick in 'Refugee'. But cheap criticism could not stop her from moving up on hotness scale and we finally saw this sexy babe don hot bikinis in Tashan. Kareena actually started the size zero trend in India by flaunting her thin curves.
3. Aishwariya Rai Bachchan
Her previous flaunts made quite a few go round the bend; the bikini-session was a reflection on her rules. Stealth or svelte; she excels. Aishwarya Rai has also spent a good number of years in the industry and with the changing scenario of women shedding clothes, Aish didn't stop. From the conservative Bahu rani in Devdas, she moved on to the spunky thief in Dhoom 2.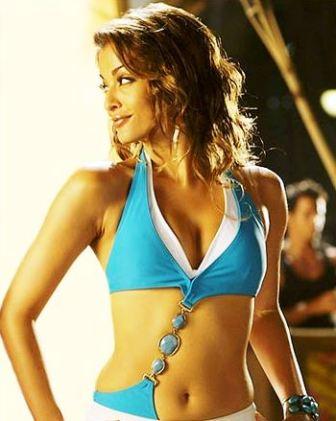 4. Bipasha Basu:
The sensual sex symbol of Bollywood carried the bikini enough sensually to be nominated for the bikini-babe tag. Bipasha Basu raised eyebrows with her daring role in 'Jism' and has ever since been the ultimate sex siren of Bollywood. Recently, she also posed nude for a Maxim photoshoot saying that when you have it, you should flaunt it! Bipasha is one babe who will remain on this list for a long time to come.
5. Katrina Kaif
The nimble lady who knows how to show her curves well to impress even those who are not her fans. She is the dream of millions of fans all over the world with her charming smile, ravishing looks and an absolutely stunning body. Katrina Kaif rocked the industry with her Shiela Ki Jawaani item number though we would like her to rock it with some acting skills. Otherwise she will just remain that only – a classy item girl! Apart from that, Katrina Kaif is perhaps the hottest babe on the Bollywood bikini circuit right now and Ranbir Kapoor seems to be having all the fun.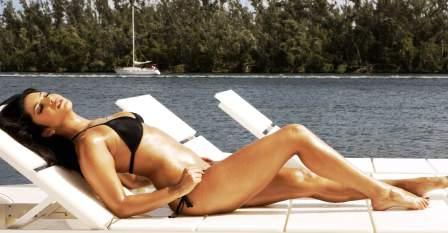 6. Barbara Mori
I don't know if it will be fair to include a Mexican beauty in this list of Bollywood bikini babes but Barabara has it all. A plump bosom, petite figure and a cute face. Her strong point is shapely legs that blend in the washboard abs to strike a dare-to-bare stance. This raw Mexican beauty aplomb at her tempting best!
7. Priyanka Chopra
A toothsome dish with the best skills to sizzle in a bikini. Priyanka Chopra won the Miss World award in 2000 and it was rightly deserved.
8. Neha Dhupia
The ravishing diva's fleshy, smoking hot looks are what's required primarily to don a bikini. Neha Dhupia had one of the hottest bikini bodies, its unfortunate that her career could not take off that well in Bollywood. She was last seen in a creative role in Phas Gaye Re Obama.
9. Malaika Arora Khan
An attitude with oomph, Malaika is a blazing beauty in skimpy bikinis or in itsy-bitsy swimsuits. Malaika Arora Khan is the quintessential item girl of Bollywood for she has taken them to a whole new level. The best part is that she is a mom of two!
10. Lara Dutta
Waves created a magic in sensuousness that only compares to itself – Lara Dutta was Miss Universe in 2000 and she won rightly so. While shooting for 'Blue', Lara lost weight and shaped up her figure to look hot in a bikini and she came out pretty nice. Lara Dutta is one down-to-earth actress who has no airs about her being so hot!
So that's that. Bollywood beauties have indeed come full circle. What began with the sensual Urvashi when she tried to seduce Arjuna to bed her in Mahabharat, Katrina Kaif and Kareena Kapoor (not literally you duffer!). Ok, now. Enough of peeping here and there, I think you should get a chance to express your opinions as well. Let us know through your comments!