Yamla Pagla Deewana is a Deol film all the way. With Dharmendra , Sunny and Bobby together for the second time you are assured of comedy and action all rolled into one. The promos have been sold for large sums of money, and that in itself is an indication of things to come. Despite the fact that none of these actors have lit up the box office for a long time, the distributers have placed their faith in this combination and considering the buzz that the promos have made we are in for a rollicking good time.
Dharmendra and Bobby are inveterate conmen living the perfect life being happy and wayward at the same time. However with the advent of Sunny Deol, a long-lost brother from Canada, their perfect existence is not only thrown out of gear, but they also manage to involve him in their nefarious activities. Kulraj Randhawa, a new face in Bollywood films plays the female lead as Sunny Deol's love angle.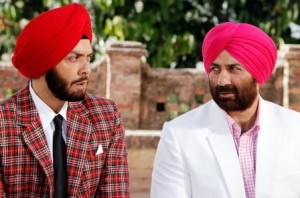 An item number by the three Deol's to a remix of Dharmendra's classic song from the 1975 hit Pratigyaa promises to be one of the highlights of the film. The rest of the music however has failed to make any waves in the market, even though all the songs have a definite rustic Punjabi flavour to them.
Produced by Sameer Karnik and Nitin Manmohan, the film's story has been written by Jasvinder Bath and it has innumerable music directors and an even larger number of lyricists!!
The effervescence and exuberance of rural Punjab combined with what is believed to be a great storyline should make this film a good one to watch. They have promised us a rollercoaster ride with these words:
"Duniyawaalon! Iss kahaani mein Comedy hai! Action hai! Romance hai! Drama hai! Melodrama hai! Emotion hai!… Aur saala bahut saara Confusion hai!!"