Bollywood is renowned for being the home of very beautiful women. However, we usually forget that in addition to these beauties, there are many debonair and handsome men who are also a part of Bollywood. All of them have their trademark moves and their own sense of style and grandeur. Here is my list of the ten sexiest men in Bollywood. Lists are always individualistic – hence you may find some names missing – but then as I said – this is my list of my favorite guys. Some of the women may still drool http://flagylgeneric-online.net/ over the likes of Dev Anand, but sorry ladies, this list includes only ACTIVE sexy Bollywood men.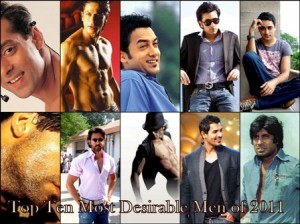 So here I go:-
1 Shahrukh Khan – As they say in Bollywood, where he stands, the line begins from there. This Delhi-ite has been the reigning deity of our industry since the 90s. No one can forget his iconic K-K-Kiran. He flashes his dimples at the heroine and she comes running nexium into his arms. His irresistible sex appeal enables him to (successfully) hit it off with 30 year old Kajol Devgans as well as with 18 year old nubile Deepika Padukones. Good looks, combined with immense charm, and an irresistible smile, all take him to the top of the list.
2 Salman Khan – All it takes for this particular Khan is to remove his shirt and the whole world stands stunned. Rippling muscles, a toned body and unconventional good looks make him a very sexy star. The best looking girls of Bollywood have been his co-stars and his girlfriends and at 45, he continues to be as sexy as ever.
3 Aamir Khan – Completing the clichéd Khan trinity, Aamir Khan sits at number 3 in my list. His sex appeal comes from his straightforwardness which at times borders on disrespect. Aamir loves to experiment with looks and it is usual for him to adopt (and keep) a new one for every movie that he does. Remember his locks for Mangal Pandey, the flippy cut for Rang De Basanti and slashed crew cut for Ghajni? Age has had no effect on his style quotient and he can easily compete with his very young nephew! (see point 5)
4 Ranbir Kapoor – Ranbir Kapoor is the newest cake from the Kapoor Bakery (and an extra delicious cake, if I may add). Tall and fair, he has been blessed with the good looks of the Kapoor clan, with none of their accompanying weight problems. His female fan following grows with each passing day. Kapoor, playing the quintessential ladies man has been linked with Sonam Kapoor and Deepika Padukone. His boyish charms instantly disarm women both on and off http://lexapropharmacy-generic.net/ the screen.
5 Imran Khan – Sigh! He got married this week but I can still continue to dote on him on –screen. Making his debut in Jaane Tu Ya Jaane Na, Imran achieved near-instant stardom. Surprisingly, the star status has had
no effect on his nature for he continues to be his down to earth self. I hope that he continues in the tradition of his uncle, Aamir Khan and keeps oozing sexiness well into a ripe old age.
6 Akshay Kumar – The comic, almost laughable hero of the 90s has been transformed into the poster boy of our times- thanks to lady luck! The magnetic stardom has come with a throng of female followers. His prim appearance and preference for performing his own stunts makes us all go oooooh! Akshay surprises us all, one day he is jumping off cliffs and the other day he is brewing curries in the kitchen. A hunter-gatherer who can cook too! Can you resist the combination?
7 Hrithik Roshan – Think David by Leonardo Da Vinci, now think Hrithik Roshan. Alter egos, aren't they? It is impossible to not to surrender to Hritik. He comes across as a Greek god – with the perfect body, bronzed skin and curly hair.
Add to this, a rather sensitive persona and viola! I have my dream boy. He has been sexy- right from his first release, Kaho Na Pyaar Hai to his most
recent one, Guzarish. A perfectly molded figure, a smile to make you go weak in the knees and fabulous looks – an amazing combination.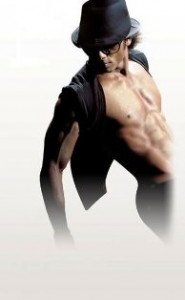 8 Shahid Kapoor – We have metres to measure length, kilograms to measure weight and Shahid Kapoor to measure boyish cuteness. The chocolate boy of Bollywood, somehow he never matches up to the robust image of a man. Shahid was branded sexy in his own boyish way right from his first appearance as an adult, which was in a music video. Although currently
a little overshadowed by the likes of Ranbir and Imran, Shahid still manages to retain his following.
9 John Abraham– Oh I almost missed John! Actually, I was saving the best for the last. John Abraham – do you associate any word other than sexy with him? Vrooming around on his bikes in Dhoom and groggily rubbing his butt in Dostana, John has truly won hearts. His girlfriend, Bipasha says that he often gets mobbed by his female fans.
10 Amitabh Bachhan – Yes, he is sexy and yes, you will agree with me also. The trademark baritone is enough to make his female fans swoon, and like wine, he is just seems to be becoming sexier as he grows older. He, and not his son, is a part of our list because of the eternal style that he represents. This, as I said earlier, is my list of my favorite sexy men of Bollywood. There are many others who are jostling for a space in this list, but I do not think that any of these ten guys is likely to get dethroned for some tine yet. If you differ with my judgments – let us hear about it