With just a few days left for release, the hysteria around Ghajini is building. Owing to several clever marketing stunts pulled by Aamir Khan, this hype and commotion is only increasing. Everyone is dying to watch the film and decide whether it will be a hit or a flop. We present our verdict in a analytical article which is based around several logical arguments.
Yes my friends. I might sound a little biased here but Aamir Khan might be the sole reason for Ghajini's success. After the disaster of Mangal Pandey, Aamir actually has a 100% record and a superb success rate –  only hits. In fact, he has Lagaan, Rang De Basanti and now Taare Zameen Par as India's official entry to the Oscars. He has the cult movie Dil Chahata Hai and again RDB – these movies actually defined the thinking of our youth for some time.
After such big films, one has to keep up with the expectations of fans and media and this is the reason that every Aamir Khan picture automatically comes with its own bundle of hype and hysteria. Ghajini similarly has this hyped aura about it and fans and trade analysts are wondering what the movie will be like. After all, it is 'an Aamir Khan film'. Many industry gurus are also saying that Ghajini might be the biggest release of the year, leaving no room for mediocrity. Be it distribution or marketing, promotions or budgeting – everything associated with Ghajini and Aamir Khan is slated to be big. Whether the movie is a success or not, only time will tell.
Now, why Ghajini might be a possible flop
For one, Ghajini is not the most original films. It has been remade from a Tamil film of the same name which in turn is the remake of the American thriller 'Memento' which has been adapted from a short story by Christopher Nolan. To know about Ghajini, I had no other choice but to watch the english version. The movie is no doubt very engrossing and thrilling but it also confusing. Parallel stories, flashbacks and comebacks, the movie is a warped tale of a murder and short term memory loss.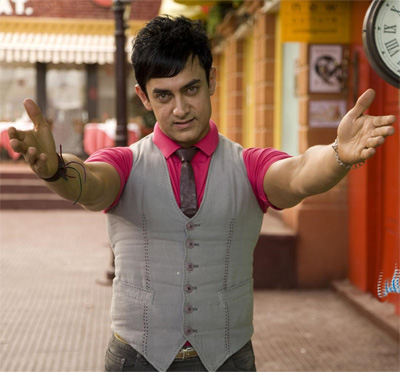 This fact alone might jeopardise the success of Ghajini. If this happens, it will be like mimicking the fate of Mangal Pandey. The movies have striking resemblances in many aspects – the different hairstyles of Aamir Khan in both the films, the hype and hysteria which is built and the large scale productions. Who knows what Mr. Perfectionist has in store for us this time?
Here's what most of the news sources seem to say:
Aamir Khan starrer Ghajini has smashed all previous records. The film emerged as the biggest opener of all times, grossing a whopping Rs. 20 cr. net in its first two days. The film collected approx. Rs. 1.6 cr. net in paid previews (when it was released on Wednesday 24th Dec), approx. Rs. 8.25 cr. nett on limited screens and shows (on Thursday) and approx. Rs. 10.15 cr. net (on Friday), according to its all-India distributors Studio 18. The collections are simply earth-shattering.
The first weekend (Wednesday paid previews till Sunday)collected approx. Rs. 42 cr. nett (approx. Rs. 70 cr. gross) in India, which is an all-time record. The film has surpassed all past openers. The second week opened with rock-steady with collections of 70% – 80%, which is 75% higher than the biggest opener of this year, Singh is Kinng.
Not just the domestic box office, Amir Khan and Asin starrer Ghajini is a trailblazer in overseas markets as well.
Usually love stories and musicals rule the roost in international markets, while action films are a strict no-no. But Ghajini has fetched an overwhelming start in America and Australia and despite a 15 certificate, is impressive in U.K. The film has debuted at No. 7 position in UK and in its opening weekend, it has collected 3,18,538 (approx. Rs. 2.24 crores) on 49 screens, with the per screen average working out to 6,501.
In US, Ghajini has debuted at No. 21 position. In its opening weekend, the film has collected $ 13,87,534 (approx. Rs. 6.72 crores) on 82 screens, with the per screen average working out to $ 16,921.
All these figures add up to only one fact that Ghajini seems to be all set for a historic run at the box office that might very soon make it the biggest hit of Bollywood this year.