It's 6:30 am. I'm standing outside Prabhat, gazing at Shahrukh Khan's facing staring at me from the Om Shanti Om poster. I'm already sitting inside the hall in my head, wondering what it's going to be like. I'm in my school uniform. It's Diwali. My outing began at 6 am. And I reached this place at 6:15. Loyally. Standing amongst Bhaiyas and all those people, being pushed around them. Their faces and I carry the same excitement – it's an Shahrukh Khan film. It has our God starring in it. Like everyone else around me, I am one too. I am a victim. A victim of the "Khanophrenia".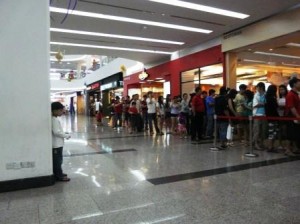 A violent push wakes me up and pulls me back into reality. The metal grate is being opened up wide. They're beginning the ticket sale. In the middle of all violent street peddlers, I am a sober little kid wanting to simply watch Om Shanti Om. I realize I'm too polite for the crowd. I don't stand a chance. But I don't lose hope. "Line banao!" someone shouts. The impolite crowd, oh heavens, DOES. Shahrukh Khan is god. We are his devotees. We will bend before anyone for him. So we do. We form a line. There are violent pushes from the front, from the back, from the left and even the right. Only the ground below me stays still, and the air around me still finds its way into my lungs. These things are not excited. SRK is still staring at me from his poster. Deepika Padukone is failing to get his attention at the moment, somehow. Ouch! Another push. Loud abuses being thrown about. The line moves forward, by an inch, it seems. My dad is beckoning to me, telling me I'm being stupid. I retort, "I WANT TO WATCH THIS FILM." It's a disease, dad, you won't understand, I try to tell him telepathically. I don't think it works. Only those suffering from this disease can do that, and only with each other.
It has barely been 4 minutes, and it's already a sell-out. The line had moved forward perhaps by 2 inches. What happened? Where were all the tickets? No one knows. We've failed. I've failed. I will be one of the devotees, or maybe patients, who won't be watching the First Day First Show of Om Shanti Om.
Khanophrenia. A weird disease. Khanophrenia is a disease whereby a viewer, read devotee, read patient, has the urge and desire to watch a film only because of the Khan actor cast in it, mainly Shahrukh, Aamir and Salman. The story or the quality of the film holds no relevance in the minds of the viewers, read devotees, read patients. The viewers/devotees/patients have a supernatural thinking where they believe that the first day first show of a Khan film holds an important significance that other shows don't. Hence, there are riots, even, in the course of attaining a ticket.

Another push awakens me from my little thinking period. The tickets for the next show will be started being sold at 11 am. I look at the time. It's 8:45. Hm. I look at my dad. "You go," I say.
I stay. I stay. I wait for two hours. My brother who's rather bulky joined me at 10 am. He's the only reason I am able to get the ticket for the second show. My excitement is half of that it was in the morning, but it's still there, nonetheless. I see people streaming out of the hall at 11:30. Some are shaking their head. Some seem pleased. Whatsoever, none of the people up for the second show are bothered. They HAVE to watch the film. It's Shahrukh. I'm one of them. I'm one of them.
The clock ticks. I finally produce my ticket, something that holds so much value for the moment. I don't care what the film is about: I still have no idea. And, I'm sure, neither do most people around. All I know is, it's SRK. With approximately five hundred others, I stream into the hall. The film plays. There are loud, excited roars when SRK's face becomes visible. I'm one of the people shouting.
Two and a half hours later, when I'm entering the real world again, simply by exiting the hall, I look up at the poster again. Somehow, Deepika, now Shanti, is still hoping to get Om's attention. But wow, SRK is still staring at me. I get the feeling that he is smiling. It's a moment of clarity: I feel the connection. We are both looking at each other. Nothing else exists in the world. Nothing.
And then there's another violent push. The third show is beginning. I smile. I sit in the auto. When it's leaving, I turn back, I wave at Shahrukh, at Om.
I could swear that Om waived too.