Today I was seized by this overwhelming desire to give, and like most people I took full five minutes to ponder on what to do for the general good.  Then, I moved on, and carried on with my daily routine.
Is it so hard to give away? Does our spirit to help others financially or morally depend on how much we earn? Probably not. Money, as they say is immaterial.
Some of our biggest stars are known to be miserly donors while some others lesser know ones are actively involved in charity and volunteer for charity fundraisers or events. But thankfully, there some extremely philanthropic Bollywood stars.
Our most philanthropic Bollywood stars
Akshay Kumar: Akshay Kumar undoubtedly does several movies a year. In fact, with him taking on TV shows' hosting too, he must be hard pressed for time. Also to be noted is the fact that he is one actor who is known as the lowest paid actor among his top-rung peers.  Considering all this, it is amazing that he regularly finds time for charity. Only recently, he donated a huge sum of 50 lakhs to 'Being Human', the charity organization run and supported by Salman Khan.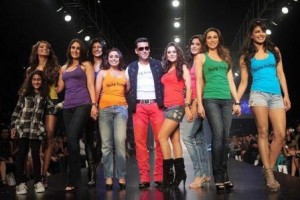 Salman Khan: He can easily be called the king of all Bollywood philanthropists. Of the several charities he supports, Salman is very actively involved with his organization 'Being Human'.
The NGO 'Being Human' raises its funds mainly by selling Being Human T-shirts (like the one Salman has been seen sporting almost always nowadays), watches, accessories and his original paintings. Recently, he organized a charity event where several celebs walked the ramp at the India Couture Week (Mumbai); the proceeds of this event went to 'Being Human'.
Apart from his huge involvement with 'Being Human', he is also closely associated with several other organizations. Cancer Patients Aid Association is one such organization. Salman is known to often visit their functions and interact lovingly with children. An example of Salman's large heartedness is the case when he visited one of CPAA's programme for terminally ill patients, with his entire family. They met each and every patient and humbly donated 13 lakh rupees before leaving.
Not only does Salman Khan spend his time and money with other people who are in need, he also expressed the desire to donate bone marrow soon after he came to know that bone marrow can help save cancer patients. He could be dissuaded only with lots of explanation on how the operation was a lot more complex than he could have anticipated and bone marrows could be transplanted only to patients whose tissues were a match with the donor.  Make-A-Wish Foundation of India is another organization who has often called upon Salman in times of need. Ashray, which helps AIDS infected women and children is also an organization which gets regular monetary and moral support from Salman. He often visits the children and spends several priceless hours with them, thus spreading joy in the lives of terminally ill patients.
What does Salman Khan get out of doing so much good some cynics might ask? Well, all of his movies which were released in 2011 grossed more than 100+ crores each at the Bollywood box office. How bout that!?!
Shahrukh Khan: Shahrukh Khan is said to be closely involved with the NGO, Make-a-wish. Whenever he is approached for help, the King Khan is ready to help. These wishes are made by terminally ill children and many a times when they wish to meet SRK, he arranges for them to be driven to his house and spends quality time with them.
Shahrukh is known to be a generous star and a considerate employer. How he helped the family of the onlooker who died in a freak accident on the sets of Sanjay Leela Bhansali's Devdas, is no secret. Though he was not legally obliged to do this, he did it out of compassion and a sense of moral duty. On occasions when his banner's movies have been huge hits, he has shared the profits with the employees in the form of goodwill bonus. The employees of his company Red Chillies Entertainment can't stop talking of the love and respect SRK treats them with. It is also a known fact that Shahrukh Khan has founded the Department for Childern with cancer in Nanavati Hospital (Mumbai).
Vidya Balan: This dusky-eyed actress is closely associated with AmFar (Americans for AIDS Research) and also gives monetary support to Hale House, home to children born with HIV and children addicted to drugs. Apart from the money and time she spends with the above mentioned institutions, she also finds time to host forums and participate in events which help in aid and research for the Harvard AIDS Institute.
Vivek Oberoi: He is known to be very actively involved with charity. Be it the Tsunami hit villages or the cause of the girl child he is always there for them. Vivek Oberoi celebrated his 33rd birthday (2009) with the children in an orphanage. Vivek and Sushmita were spotted at the project Devi charity event recently. Not only that, he also went over to Sri Lanka recently and aided the families of ex-LTTE members.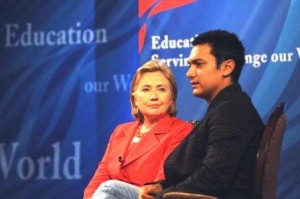 Amitabh Bachchan is often criticized for being rather miserly in terms of give-away charity, but he does his bit in his own way. Not only has he opened schools for little girls in his home-villages in UP, he was also seen auctioning a lunch date. The Joy of Giving, a Bangalore based NGO, which works towards creating an awareness about children's civil rights, organized.
Sushmita Sen and Raveena Tandon are both very actively involved with welfare projects. Their favorite projects are aimed at helping the girl child and underprivileged and orphaned children.
Aamir Khan is also an actor who is known to spend money and time in order to help others out.  However, it seems he keeps the efforts under wraps; hardly does one find any one mention in the news of internet.
How amazing it is that several of these Bollywood stars' interviews and love-life get ample coverage by the press, but their good acts are seldom reported. These stars shine bright and their light gets reflected by several troubled lives all over the world.