There are still some, or rather many, who claim that Katrina Kaif is only surviving in the industry courtesy her god-like figure and her to-die-for looks. Simply speaking, two points of arguments there: one, she ain't surviving, but thriving. And two, those who say that are just talking pure [rude word that starts with an innocent 'bull' and ends with something that I cannot write here].
Here's why.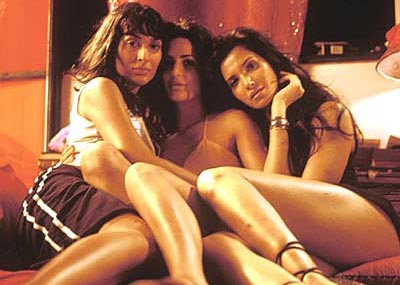 The Start
Most of us simply recall how Katrina Kaif started her career, with a literal blast that both blew up her dream [or so she thought] and the box-office's expected collections… Boom. Now, Boom wasn't a total-nothing. It had Amitabh Bachchan, for god's sake! Stardust reports: "The film was an embarrassment in every way, but it still happened in the company of a unique cast featuring the Big B, Zeenat Aman, Padmna Lakshmi, Jackie Shroff, Madhu Sapre, even Bo Derek and Rohit Bal… it was a pretty picture to be in, if not interesting." Boom was termed as 'soft porn' by some. And Stardust reports that even Bachchan did not know what he was getting into… so how could a poor little girl with stars in her eyes have been able to spot anything wrong? Katrina Kaif was just happy to be getting a break amongst these biggies. The film totally needed her to do some, or perhaps more than some, daring baring scenes. Katrina Kaif felt that this was all that modern day Bollywood was about, so, very much innocently, she went ahead.
Of course, the film 'boomed' in the wrong direction. Katrina Kaif was hounded by critics for her insensitivity. She thought, as did most others who knew her, that it was over before it began… but guess who took her side?
Our very own, the lead actor of Boom, the angry Big B; As we all know, he was once again her co-star in their next… Sarkar (2005)!
A Gradually Steep Rise
Many claim that it was Salman Khan who rescued Katrina Kaif from drowning emotionally and filmy-ly [I just made this word up, I totally think you can figure out what it means]. But in fact, it was Ram Gopal Varma in his Sarkar. Varma's ability to churn out the good actor in everyone helped get her a little bit of eyeballs [referring to those who don't care about looks, but talent!]. Also, there is something that no one really knows… and that is that Katrina herself had decided to only work in A Grade films. It wasn't really any kind of arrogance on her side, for by A Grade she simply meant films that were not the Boom-like. So, here's how she had her first little bit of success: through a small role in the super-hit Sarkar. From here on, she only moved towards bigger and better things.
Her next was with, of course, Sallu Bhai. We still don't know if Salman and Katrina Kaif were a couple or not, they always claimed they were 'just friends', but either way, apna Sallu Bhai clearly did everything for her that gave everyone clear indications of what was up [haha]. Maine Pyar Kyun Kiya had Sushmita in the lead role, but Katrina Kaif made sure she stole, or rather borrowed, plenty of attention for herself. MPKK did good enough at the Box Office… and Katrina Kaif was now recognized as a 'heroine' [let me, for the fun of it, and the complex simplicity of it, say that this word has double meanings] of our Hindi Picture Industry by the masses. Stardust says that '…with Salman on her side, she was fast picking the tricks of the trade as well.' A just statement, except that hereon, Katrina Kaif really didn't really require relying on Dabangg–ji at all. It was, one could say, a gradual but sudden rise.
Smart Katrina
At this point, many thought that with all the offers and scripts coming her way, she would blindly and happily start signing everything. But she played smart and sensible. Her definition of A Grade now really took shape and she only ever signed up for the best of the best roles, alongside the bigger names of the industry. Hence, in the following years, the only film she had with Salman Khan as her co-star was Partner, and here, unexpectedly, she was not paired with him. Her success as the center-of-attention in Partner meant that she was now 'firmly placed [her] amongst top actresses like Kareena Kapoor, Priyanka Chopra, Biapasha Base and Aishwarya Rai.' [from Stardust].
The Much Acclaimed Duo of Akshay Kumar and Katrina Kaif
Somehow, most of her following films paired her with Akshay Kumar. Stardust says that thankfully these were 'well spaced out', though I'm not really sure what they mean by that. There are conclusions, yes, but let's not be controversial and keep them to ourselves.
Her first 'real' love story, Humko Deewana Kar Gaye wasn't exactly a superhit, but it identified her as a good partner for Akshay [onscreen, sir… onscreen]. Somewhere in this time, she also appeared in the all-Deol's Apne, opposite Bobby. The fact that this movie was a success meant one thing: Katrina Kaif was clearly not making any mistakes!
Then on, a fast and furious and lovely series of Akshay-Katrina movies, all hits, such as Welcome [a bigger hit than Partner!], Namastey London, etc. There was a big but bigger-at-the-Box-Office Race, alongside her second Khan, that turned out to be a super hit. Following that, another one with Akshay opposite her: Singh is Kingg… Bollywood and India just saw the second most hottest on-screen couple ever… only after SRK and Kajol.
The Simple Logic of Balance
What goes up comes down, doesn't it? It almost seems funny that two of her next flops were with Mr. Dabangg. It will not be foolish to assume that her roles in these were only so as a personal favour to Salman. I'm not really claiming to know this, but it's just an assumption. It was not normal for Katrina, who was delivering a hit after hit, to suddenly do something to wreck things.
But nothing really happened. People still saw Katrina Kaif as something amazing. As she went on to prove that.
Once Again, Aal Izz Well
What was next? Of course, a new film, a new co-star[s], a new role for Katrina: New York. Director Kabir Khan said one thing to Katrina Kaif… "Here, you have to play Katrina Kaif." I guess she was really herself, for I personally believe that New York has been her numero uno, her best performance till date. Even I believed that Katrina only ever relied on her looks, but in my review, this is what I wrote at that time: "Katrina's performance was amazing, considering that she doesn't know how to act." That WAS the case. It isn't anymore.
Then, most think as a favour, she did a small thingy in Akshay's Blue, totally forgettable. Following that she did the same in De Dana Dan, but the film did ok-ok. So no real harm done.
A New Start
Then, for the first time, Katrina Kaif actually played the lover of someone who was actually her age… the rising star, Ranbir Kapoor. Ajab Prem ki Ghazab Kahani that turned out to be a big hit. The film may not have been that great, but then what matters… is that it was a hit! What followed was another time with Ranbir, in the brilliantly directed Prakash Jha production, Raajneeti. Despite her accent, she really pulled it off in this one. Katrina Kaif was a force to reckon with, many could say.
What Lies Ahead, and the Conclusion
What's ahead for Katrina Kaif is a rumoured pairing with Shahrukh. Also, she has Zindagi Na Mile Dobara with Hrithik and the Akhtars, of course, it's big. Opposite Imran Khan, she has Mere Brother ki Dulhan, and people have high hopes from her as Priyanka's descendent in Dostana 2.
Of course, if she gets that much-hyped role in Dhoom 3, who'll question Katrina's career and talent ever again? What with Amitabh Bachchan, Abhishek Bachchan, Akshay Kumar, Saif Ali Khan, Ranbir Kapoor, Salman Khan, Imran Khan, Shahrukh Khan [maybe, if she's lucky enough]… and perhaps even Aamir? With such a brilliantly historical record of co-stars, who's going to turn down a film with her?