In my own defence, let me first list the numerous Hindi classic movies that are being remade … for some strange reason. Honestly, as if Hollywood remakes were not enough, the creative minds of Bollywood have taken to giving their interpretation of old Hindi classics. Making several adaptations of a novel – I can understand that … even several remakes of a movie that lends itself to interpretations (or copying movies of other languages) is understandable … but what the hell possess the directors and producers to re-make a movie which is so good and incomparable in its own right.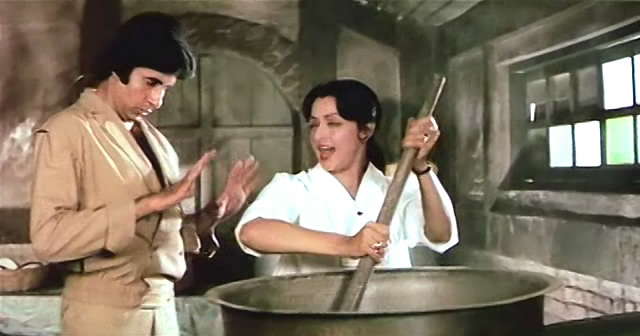 Satte Pe Satta (original with Amitabh Bacchan in the lead), a movie which itself is a copy of the 1954 Hollywood musical 'Seven Brides for Seven Brothers' is being remade by director Soham. Sanjay Dutt and Aishwarya Rai Bacchan are said to have been cast for the lead roles. Now, with all due respect to Mr. Dutt and Mrs. Bacchan, how do they compare to Amitabh Bacchan and Hema Malini? I am sure the director would say that there ought to be no comparisons with the original, but come on, is that possible? To me it feels like you take the black and white photographs of my childhood and color them with crayons. The originals will always be originals and to me, these remakes will always be some poor cousin piggybacking on the masterpieces' evergreen appeal. (Update: Recently the film director confirmed that Hema's role would be played by Madhuri Dixit, who in my choice is better suited to the role and is by far a better actor and comic when compared to Aishwarya. Also MD would look so much better with Sanjay Dutt, not to mention that they share great on screen chemistry).
Like a true film buff, I have to this date refused to watch 'Don – The Chase Begins'. Yes sir, I have NOT watched this movie of Shahrukh Khan. I, who has even watched 'English Babu and Desi Mem' and 'Guddu' and 'Darling Yeh Hai India', has refused to set eyes on this movie which is claimed to be a big hit. Not out of resentment and not out of stubbornness, I have just not felt the need to see a 'Don' which does not have the original 'Ganga Kinare Wala' chora.  Wonder of wonders, they are making a part 2! So, while you ready yourself for 'Don 2', I'll list other movies which have been butchered into remakes.
Butchered is the word you remember when you watch the remake of 'Sholay' – 'Ram Gopal Varma ki Aag'. Movies like that are just pollutants in a pool of water, serving no other purpose than create muck. It may be too soon to speak, but I feel a certain bitterness when I hear that Priyanka Chopra is slated to play Meena Kumari in 'Saheb, Biwi aur Ghulam'. For me 'Umrao Jaan' means Rekha and no number of plastic Aishwarya Rai Bacchans can make me switch loyalties. What actually did 'Karzz' accomplish other than add one more 'z' to the original and waste several crores of Rupees?
Inspired is good. 'Raju Ban Gaya Gentleman' was inspired by 'Shri 420' and 'Raja Hindustani' by 'Jab Jab Phool Khile', 'Partner' was inspired by 'Hitch' and several hundreds of Bollywood movies have been "inspired" from different Hollywood or South Indian movies. However, the point of taking the same story (well, they do "change" the climax etc. sometimes) and the same songs and similar characterizations and making it into a whole new movie while spending several crores of Rupees on it, is something I can't understand. Further, what is more perplexing is that people will pay to watch this movie – maybe the younger generation who's never experienced the magic of 'Satte Pe Satta' will laugh when Sanjay Dutt does the same buffoonery, but the magic of the original 'Satte Pe Satta' can't be reinvented.
When Dev Anand was asked for permission in order to remake his gem movie 'Guide' he refused point blank. Probably, he couldn't see an important part of his life being handled recklessly.  These classics are a part of my life too and it pains to see the memories being strewn around like litter. Call me stubborn, I refuse to budge to second hand creativity.