Release Date
21st January, 2011
Cast and Crew
Director: Kiran Rao
Producer: Aamir Khan
Actors: Aamir Khan (Arun), Prateik Babbar (Munna); Monica Dogra (Shai) and Kriti (Yasmin)
Synopsis:
Kiran Rao's directorial debut is the narrative of four human characters and Mumbai (the fifth character). The life of the four characters are embroiled with each other, creating conflict and chaos, and in the midst, Mumbai is the ever seeing silent observer, a witness to the turmoil and periods of harmony that the characters undergo. Aamir Khan's character statement at the end: "To Mumbai – my muse, my whore, my beloved", sums up the entire film in one essence.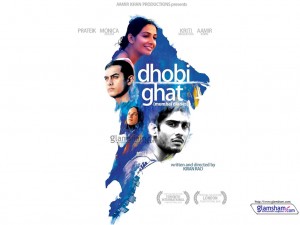 Media Buzz
Media is abuzz with Dhobi Ghat. It is a film that takes a step ahead in breaking away from the conventional Bollywood 'masala' films. The film deals with different characters and narratives, and shows that Indian cinema is not stuck with its formulaic films. Dhobi Ghat is not a typical Bollywood blockbuster but is certainly an indication of the new era in Bollywood film making. Expectations from Amir Khan's movies are on a high, after Peepli Live.
Why Should You Watch It?
Watch the movie if you are looking for a different and interesting story, unlike the nonsensical movies Bollywood has been producing this year. Kiran Rao's direction is soulful and refreshing to the senses. The characters are etched out beautifully. Even though the presence of Aamir adds to the film quality, the onus of the story does not rest completely on him. All the other characters have done an equally brilliant job.
The story runs on two parallel lines, with the symbolism of the 'dhobi ghat' running in the background while all the characters interact and cross each other's path at crucial moments and this makes a profound impact on their life. The ending is equally astonishing and worth the wait. Let's not spoil the suspense. Take a look at Dhobi Ghat yourself!
Check out the current updates and more information at their official website.
Check out the Official Trailer of Dhobi Ghat