It's clearly not a mass film. In fact, I made the horribly incorrect judgment of choosing to take 9 of my friends for Dhobi Ghat as a birthday treat, all of whom hated the movie. But that clearly does not imply that this is a bad film. In fact, I think it was brilliant. As I said, it's clearly not a mass, masala entertainment production. It is for those who are into some real, serious cinema, who appreciate realism more than anything else.
Dhobi Ghat is an English Language movie, most of it, at least, and is dubbed in Hindi. With it, Kiran Rao makes a debut worth remembering. She has employed a style of film making that is totally new to Bollywood: which is why it does not look like a Bolly Production at all. If it was Guzaarish last year that was beautiful, haunting, engaging, something new, then for this year, it is Dhobi Ghat (as of yet!). So will the list of similarities between the two stretch as far as Dhobi Ghat meeting the same fate: that of being a horrible failure at the Box Office? Highly likely, because for the first time in years, an Aamir Khan film hardly had less than a half-full, let alone house-full, first day first show.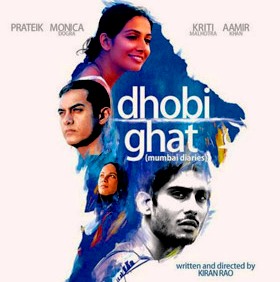 Dhobi Ghat Movie Review
Dhobi Ghat is not one tale, but three, beautifully blended together to create a complex set of relationships. There are three main characters of distinct social circles: a low-class Dhobi, a middle-class Painter, and a high-class amateur Photographer. One string of story extends from the Photographer to the Painter. Another one stretches from the Dhobi to the Photographer. The third tale does not take place in real time; it takes place in the Painter's life, on three DV Tapes left behind by the previous owner of the apartment he currently resides in. All three are blended together to create a potion that makes you feel surprisingly good about yourselves. It doesn't have any typical dramatic end, but an end that often makes you wonder if the movie could have gone on longer. But you know what, I'm sure it does. We just don't see it on the screen: we see it in our lives. This is one of the simplest blend of stories ever told, and one of the most touching.
Staying true to its realistic touch, it does not have any songs to interrupt the flow of the movie. Just a few beautiful soundtracks that are amazingly well done. The direction of the movie is smooth, kudos to Kiran for that, and the performances are something as well. No doubt, Aamir Khan stands out as the divorced painter who can't decide whether he likes the Photographer or not. His unnamed connection that is born with the woman in the DV Tapes is a touching aspect that no one in the film is aware of. And the fact that one old lady who probably knows everything, but speaks nothing, is a mysteriously interesting way to haunt the viewers. Pratiek is also brilliant as the shy Dhobi trying to follow his dream of being an actor. Monica as Shai the Photographer is also good. Her role is the center in a way, since she constitutes the female in the love triangle.
Dhobi Ghat has been the third film of this year that is brilliant in its own way. If No One Killed Jessica made India proud of herself, Yamla Pagla Deewana made India laugh at its fun senselessness, then Dhobi Ghat identifies itself as the heart and soul of the India we know it as. From social differences, to love, to what extent one can go for love, to concern, to worry, to complex minds and thoughts, to some brilliant film making, it has it all.
But I repeat: this one is NOT a mass entertainment film. I am sure most people would disagree with my viewpoint expressed in this review. But I promise you this: if you are the kind of viewer who appreciates stuff like Dhobi Ghat, then no way in this sweet motherland of ours would you dare to say that Dhobi Ghat is a piece of trash.
I give it a phenomenal 9/10.