Zeenat Aman or Zeenie Baby, as she was popularly called, was a trendsetter in her own right. The immensity of her talent and the audience-pull she once commanded can be estimated from the fact that to this day, she's called upon to do sexy and unconventional roles while her peers have retired or have graduated to mother-grandmother characters.
Almost 60 years old, Zeenat Aman is still young. Her latest movie 'Dunno Y … Na Jaane Kyon' may have flopped at the BO, but her presence in the movie was felt. She played a 40-something woman in the movie and she lost oodles of weight to justify her character. In fact, such was her strict dieting and fitness regime that she lost another 12 kilos while the movie was being film.  How many actors can boast of such passion for acting and perfection? Such passion is what set apart winners like Zeenat Aman her contemporaries.
Zeenat Aman – Unconventional and gutsy to the core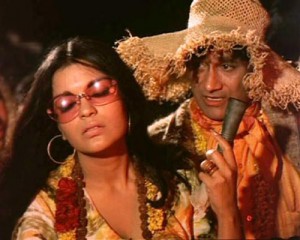 From Satyam Shivam Sundaram of the yester-years to 'Boom' and 'Dunno Y … Na Jaane Kyon' of today, Zeenat Aman has gone where many heroines of her times would not have dared to set foot. Her class act in the movies have kept her in the A-Class even if it was the highly criticized and trashed 'Boom', where several top-class actors ended up putting up the shoddiest show of their carriers.
Zeenat lost her father when she was young and started working as soon as she completed her education. Her classy looks combined with the oomph factor had several directors making a beeline for her dates. In fact, she became a brand of sorts. Several other heroines were nicknamed after her. Parveen Babi was known as the "poor man's Zeenat Aman", Padmini Kolhapure as "Baby Zeenat" and Sarika as "Zeenat Aman 2".
Zeenat – The overachiever:
Zeenat completed her studies in LA (University of Southern California) and then went on to win the Miss India runners up title. She followed it up with the Miss Asia Pacific title. Zeenat Aman was never one to settle for less. She then began modeling and acting and soon bagged the role of Dev Anand's sister in 'Hare Krishna Hare Rama'.  Zeenat, with her versatile acting, killer looks and immense sexual appeal, created a unique niche for herself. She paved the way for the new age actresses to flaunt their bodies without getting apologetic. So, whenever you see 'Sheila ki Jawani' on the screen, remember the one actress who changed the direction of the flow as far as "openness" of Indian heroines is concerned.
It was her white sari in 'Satyam Shivam Sundaram' made her immortal. She was supposed to be playing a widow with a disfigured face but a beautiful heart; her character was supposed to emphasize the importance of internal beauty as opposed to external beauty. Ironically enough, the movie got her noticed for quite the opposite reasons and all that people talk about till date are the bold dresses and scenes that Indian heroines of the 21stcentury would shy away from.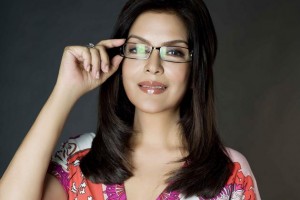 The most seductive star of Bollywood
One can be sure that Zeenat Aman would have had a more loyal fan-following  than the Kareenas and Katrinas of today. This sexy actor was paired opposite the biggest actors of her times and was directed by the biggest directors. Dev Anand made no bones about the fact that he was completely smitten by the dusky long-legged lady and in his autobiography "Romancing with life" he has admitted to being on a date with her, when her unusual proximity with Raj Kapoor rang a bell of suspicion in his mind. She had several link-ups with other top stars throughout her career. Sadly her two marriages, the first one to the then super-star Sanjay Khan and then the other to not so famous actor Mazhar Khan, were disasters.
A Lost Yet Kind Soul:
Zeenat Aman, who is nicknamed "Babusha", has confessed on record that she considers her wrong marriage decisions as an outcome of the absence of father figure in her life. She lost her father who was a Muslim (scriptwriter, Amanuallah) early on in life and was raised by her mother who was a Hindu. Probably the need to fill that void was evident in her hasty decisions of marriage (notably to Muslim men). Her first marriage to Sanjay Khan soon came to an end owing to the fact that Sanjay was very much married to his first wife when he married Zeenat. Her injured eyelid bears witness to the violent altercations they had before they eventually split up. Mazhar Khan was a smaller yet known actor, but again her marriage to him was also not a happy one. Still, when Mazhar fell il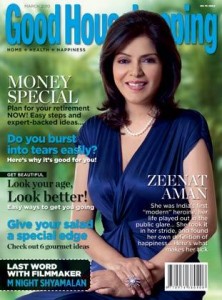 l with liver failure, Zeenat put her soul into nursing him. In fact, the kind soul that she is, she spent a large part of her savings in his treatment. Post Mazhar's death, Zeenat was harassed by her in-laws (Mazhar's relatives) and it was only when she could take it no more, she sought help and support from her friends and held a press conference to expose her tormentors.
Is Zeenat Aman still looking to establish a new identity for herself?
There must be some iota of disappointment in the way that the world in general and the film industry in particular chose to appreciate Zeenat Aman's physical assets instead of her acting skills. Probably, that is why when she decided to return to acting, she chose theatre as the vehicle. She began with a Hindi adaptation of a Gujarati play and then went on to other plays and then eventually to movies.
True to the way she spent her life, Zeenat Aman wants to be remembered as a "passionate, intense, vibrant person, who gave a 100 per cent to whatever she did."