Yeh Faasley, a film directed by Yogesh Mittal claims to be a film based on relationships, specially on the strain that distance places on each relationship. Time and space have always been spoilsports in any love story and the entire premise of this film is about how these affect the development of interpersonal connections.
Amrita Rao as Sanjana, a high and mighty and arrogant actress, is playing a totally different role in this film. Beloved of millions, she however falls for the charms of a gangster named Charlie, without realizing that he is an inappropriate choice as a lover. Shahid Kapoor seems to be the right choice to play this role, since he has managed to charm all of us through all of his films! Emraan Hashmi as the Casanova Vicky also seems to have been suitably cast. He returns home to India after a long period to look after his ailing father, only to fall for the lovely Sanjana, adding another familiar twist to a filmy love story.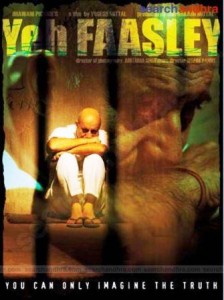 The film's music has not made any waves in the music scene so far, even though there are only a few days left for the release of the film. The YouTube promo videos have given us a glimpse of a very sexy looking Amrita Rao, dancing to the tune of Dhak Dhak Karne Laga, while both Emraan Hashmi and Shahid profess their deep love for this young lady.
The film story seems to be developing along some familiar lines, but the unusual casting and the support of Anupan Kher and Pawan Malhotra make it a film which is a bit out of the ordinary. In Vivah, the pairing of Shahid and Amrita did not create too many waves in the box office, but their onscreen chemistry then makes us hopeful that in this film they shall manage to entice the viewers. We also hope that Emraan will prove to be a better actor than a "kisser " and will live up to the faith reposed in him by his directors.