The Guptas had their Golden era, and Bollywood, centuries later, is still waiting. But after a closer scrutiny, I am encouraged to finally sit up and take notice – is 2011 the year for Bollywood? Is 2011… THE golden year for our filmon ki industry?
I don't know. Seriously I don't. I'm no one to tag the world's second largest industry whatever I want to whenever I like. But I have the right to have an opinion, the constitution grants me that, this space on © BollyKings I have been allotted grants me that, the prerogative of being a human being grants me that, and also gives me the freedom to share my thoughts with you, just as all of these things give you the right to abuse me or praise me. So here is your not-at-all favourite writer proposing a theory – a theory that 2011, the second year of the new decade, is, perhaps, THE year for Bollywood.
AIM: To establish whether I'm being a hopeless psycho, or the new-age Genius
HYPOTHESIS: That I'm the new-age Genius [basically that I'm right – which is basically that 2011 is THE year]
ACCESSORIES:
• http://www.IMDb.com
• PoV's of All You Fellas
• Some Damn Good Judgment
• An Open Mind
• Not Very High Expectations
PROOF:
The Month of January
1. No One Killed Jessica – IMDB Rating: 7.2/10
• No One Killed Jessica was Rajkumar Gupta's second venture after the brilliant Aamir back in 2008. He reminded the world of
a gruesome murder and the cowardly nature of human beings, the undeserving power of politics and money in our country, of the power of everyone… and the ultimate success of our judicial system. What I wrote regarding what I felt was this: "This is not Bollywood. This is the soul of India, the power of democracy, the goodness in every person, the sense of equality hurt by injustice, the dignity behind every act of valour, the honour awaiting us all, the glow of righteousness, the guilt of unfairness, the sovereignty of the heart, the secularism of the judiciary, the belief in innocence, the hope of the nation, all rolled into one, deep, powerful, inspirational voice… calling." Yes, basically, No One was a good film. A brilliant start to the year.
2. Turning 30!!!! – IMDB Rating: 5.9/10
• Turning 30!!! brought back Gul Panag to the big screen after a while. Though I have not had the chance to watch this film, I heard that it was ok. Now, we must take note and accept the fact that a rating of more than 5.0 on IMDB is an ok-ok film which is watchable at least once. Stuff like Welcome, Singh is Kinng [superhits, comedies] are accepted as "good films" – therefore, Turning 30!!! will be accepted as one of the successful factors of the theory we are trying to prove. Or at least, I am.
3. Yamla Pagla Deewana – IMDB Rating: 6.7/10
• Good film. That's what I had to say after watching it. The three Deols came together to give us a genuinely entertaining comedy with a good sense of humour throughout. Whilst Golmaal 3, I personally felt, was a horrible disaster owing to its poor PJ-ish humour, Yamla Pagla Deewana had some really good jokes. And the climax had me laughing like a monkey high on alcohol jumping from one tree to another, screeching all the time. And anyways, a rating of 6.7 on IMDB means it's a good film. Like, ACTUALLY good.
4. Dhobi Ghat – IMDB Rating: 7.4/10
• Beautiful film. Just amazing. Whilst the low rating in contrast to what I gave it [a 9/10] on IMDB indicates otherwise, but it's like Guzaarish… it was pure, beautiful, mature cinema that really wasn't the Sunday-time pass movie type. In fact, what I wrote was this: "It's clearly not a mass film. In fact, I made the horribly incorrect judgment of choosing to take 9 of my friends for Dhobi Ghat as a birthday treat, all of whom hated the movie. But that clearly does not imply that this is a bad film. In fact, I think it was brilliant. As I said, it's clearly not a mass, masala entertainment production. It is for those who are into some real, serious cinema, who appreciate realism more than anything else." To this, I remember someone commenting: You might want to cultivate some new friends. That made me smile. So far, so good.
5. Hostel – IMDB Rating: 7.1/10
• Again, I did not have the chance to watch this film. But the IMDB rating tells me that I missed something. Since I have no content to give you regarding Hostel, this is what the controversial Nikhat of TOI wrote: "Bollywood is borrowing heavily from reality. And that's a good sign. For cinema that talks about real problems is indeed, cinema of substance. After the Jessica murder case having seen a screen interpretation recently, we have the Aman Kachru ragging incident finding an echo in Manish Gupta's Hostel. The film enters the closed rooms of a boy's hostel to unveil the atrocities that are committed inside, all in the name of fun and time pass." Oh yes, once again, so very far, so very good.
6. Dil Toh Bachcha Hai Ji – IMDB Rating: 6.0/10
• Again, I didn't watch it. My boards didn't allow me to. But this is what one of the reviewers on IMDB wrote: "It isn't the best movie or the best comedy in recent times, however its definitely 2 hours well spent." And also, the rating of 6 on IMDB says it all.
So that's January. What a month for Bollywood. Not a single below average film as of yet. Let's move on to February.
The Month of February
1. United Six – IMDB Rating: 2.5/10
• Ok – ok… sorry. But no industry is perfect. Even in the Gupta era, not everyone became an Einstien, a JK Rowling, or a Michelangelo! The first disaster of 2011. Acceptable!
2. Utt Pataang – IMDB Rating: 7.1/10
• Vinay Pathak movies sometimes turn out to be brilliant. Remember Bheja Fry, Dasvidaniya… those superbly low-budget movies that made it big? The IMDB Rating says a lot about this movie, though it went unnoticed. There's not enough money in our country for every good film to become a hit, but that doesn't mean that the film flops because it's bad. Utt Pataang, you pass this test.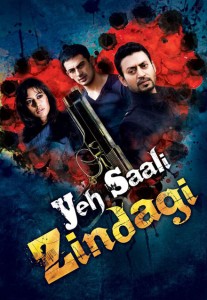 3. Yeh Saali Zindagi – IMDB Rating: 7.8/10
• The return of Chitrangda Singh (who I personally think is one of the HOTTEST of our industry!) and the presence of the superbly talented Irrfan Khan, plus the good-looking trailers had given me the opinion that this would be a good film. I had to watch a camera print on an iPod Touch, but I felt that it was a damn good production. If not me, then you can surely refer to the brilliant 7.8 [almost an 8!] on IMDB. Need I say more?
4. Aashiqui.in – IMDB Rating: 3.5/10 [another rare exception]
• Let me not waste any more words on more of these! Just keep counting these rare ones on your fingertips.
5. Angel – IMDB Rating: 5.9/10
• Another one that came and went unnoticed… but a 5.9 rating says that it's an average film. Passes the test.
6. Patiala House – IMDB Rating: 5.6/10
• Nikhil Advani has never again succeeded in recreating the magic he conjured up in Kal Ho Naa Ho. But Patiala House starred Anoushka and Akshay, and the fact that it did ok at the box office, and the fact that it has a 5+ rating, and the fact that people talked about it for a while, and the fact that I wrote more than 2 lines on this, tells us all one thing – Patiala house passes the test.
7. Tum Hi To Ho – IMDB Rating: [No Rating – not more than 5 votes available]
• No data to analyze this one. It's basically non-existent, and therefore we don't have to count this.
8. 7 Khoon Maaf – IMDB Rating: 6.8/10
• Despite all the flak it faced for being a below-standard Bhardwaj production, it's still not a film that you can call bad. It's very dark, and very mature. That's all. Easily passes the test for a number of reasons, one, it's Vishal Bhardwaj. Two, it's Priyanka Chopra. Three, it's got class, though dark, but still, it has it. And four, a 6.8 rating.
9. Kaccha Limboo, Masti Express and Satrangee Parachute – IMDB Rating not available.
o Apparently, these had no viewers. So we cannot made judgments. These get dumped into the "non-existent" category.
10. Tanu Weds Manu – IMDB Rating: 6.2/10
• Masala – that's all that this film was, and is, about. But that's what Bollywood is all about! Masala! Madhavan does good films. Again, I did not get the chance to watch this film, but my Admin, the boss of this website, told me that 'It's all masala… not the type that you will like. But it's a good film' Clearly, test – OK.
That's the month of February. Two months down, we're still doing good. Very few below standard films [2 till the last count, out of around 17]. Let's move on to March.
The Month of March
1. Yeh Faasley – IMDB Rating: 5.0/10
• I only rely on the bare-passing marks it got on IMDB. Haha. Passes. Saved!
2. Happy Husbands and Monica – Non-existent films once again.
The ICC World Cup that we won [OH YEAH BABY!] didn't permit Bollywood to really be the centre of attention, therefore these were all the squeezes that came out. That's March for you! One film, that passes the test. Barely, but yeah…
The Incomplete Month of April
1. F.A.L.T.U – IMDB Rating: 4.4/10
• Oops! But well… it wasn't a flop. Since I didn't watch this movie [I could tell it would be bad], I don't want to pass a judgment. So we could totally say that this movie fails the test, but let us not forget that it was not a flop. So, in a way… it passes. Hey! I'm very diplomatic… don't blame me. These faltu comedies are required to give Bollywood its basic character!
2. Game – IMDB Rating: 5.5/10
• For some reason that I don't know, I personally loved this film. It kept me entertained for two-something hours. That's all that matters. And plus, I have a 5.5 rating to back me up! Go Game! You saved my name and my fame.
3. Thank You – IMDB Rating: 4.8/10
• Another very average Akshay Kumar comedy circus faltu stuff. Totally fails the test in my opinion. But it kills me to say that it's still up in the cinemas around. Therefore, for being a bad film but not being a flop, Thank You doesn't exactly fail. Again, this is my diplomatic side… at its very worst.
4. Teen Thay Bhai – IMDB Rating: 5.9/10
• Having watched this film personally, I can say that it passes the test of being a basic, average entertainer. What should have really been a 30-40 minute film was stretched into a two-and-a-half hour audio-visual with useless scenes and no planning whatsoever. But a basic storyline and a plot gave some form of solidity to this film, and since it has a 5+ rating, it still passes the test.
5. Dum Maaro Dum – IMDB Rating: 8.3/10
• The first movie of 2011 to have an 8+ rating [though it won't stay for long. I'm pretty confident it'll crystallize somewhere in the 7 point somethings…]. It's brilliantly directed, very well thought-out, averagely dialogued, and fuelled by some brilliant Bachchan talent. It scores high on my list. Being highly diplomatic, I gave it a 7.0, but my personal opinion is that it gets a 7.5, one less than 8.5 for the average dialogues that if bettered, could have made this something truly remarkable. Thoroughly enjoyable… though the title has nothing whatsoever to do with the basic timeline and theme of the film! I wonder why they named the movie after Padukone's item number? Ah well. That's not the subject of debate here.
6. Zokkomon – IMDB Rating: [Not yet rated]
• This is not one unheard of thing. The highly popular Safary is back on the big screen with Zokkomon, and I rely on Nikhat's review. She rates Zokko 3/5. About it, she writes: "In an industry which throws up such an abysmal record when it comes to producing viable children's films, any attempt that can slightly hold your interest is more than welcome. And that is where Zokkomon scores." I don't need to say anything after that. Zokkomon passes the test according to India's most popular [and the most disagreed-with, especially after she rated My Name Is Khan 5/5] film critic.
That's it for this year till this day.
OBSERVATIONS:
• There have been a total of 28 releases in 2011 till the present day.
• Out of these 28, 5 have gone by totally unnoticed, and thus we will ignore them, since we have no data to judge their quality. Thus, our tally of films is reduced to 23.
• Out of these 23, 4 have been below average films, with a 5- rating on IMDb. Out of these 4, 2 have flopped, 2 have not. Therefore, only 2 films have been total failures. Therefore, it is safe to say that 8.69% films have been total failures this year.
• Out of the remaining 18, 5 films have been average. Therefore, a percentage of 21.73% films that have come out, have been average bollywood productions.
• A total of 5 films have been "good"… that is, with a 6+ rating. That is 21.73%.
• 6 films have been categorized as "very good", by the voters. That is the highest percentage of 26.08%.
• Also, we can safely say that all 6+ movies are "good", and 5+ movies are watchable, and hence, all 5+ movies are that can be considered as films worth the effort put into them. All of these films, in their own way, succeed to entertain the viewer, that is, you, me, and all the millions and millions of viewers in India and beyond. This gives us, out of 23, 18. A percentage of 78.26%.
CONCLUSION: To be left to the open-mindedness of the reader.
THEORY-PROPERSERS CONCLUSION:
I have to make some more points. The year has not even reached the half-line yet, and all the big productions, namely… Ready, Ra.One, Zakhmee, Bheja Fry 2, Double Dhamaal, Don 2, Always Kabhi Kabhi, Zindagi Na Mile Dobara, BBuddah – Hoga Tera Baap, Delhi Belly, Rockstar, Aarakshan, Bodyguard, Gangs of Wasseypur and Agent Vinod [a film that I had the pleasure of watching being shot live… with the Admin of © BollyKings himself!]… are yet to hit the screens. So the pounding question remains – is 2011 THE year for Bollywood?
Last year, or maybe the last few years, we've had rare films that have projected Bollywood's growing maturity. But, most of the films that came out had a 5- rating. This year, only 4 films have a 5- rating, out of which 2 totally flopped. 2011 sure looks like that one year that could change everything, forever.
So, I'm still not in any position to make comments or pass judgments, or conclude things. As I said, it's all to be left to the open interpretation of everyone. Perhaps, once all these big movies have been screened, hopefully awed at, we shall truly know. But, till then, we sure do have something to think about, right? Get Ready, people. The Dhamaal of our Industry is yet to begin, these moments don't come Always, but Kabhi Kabhi. Will Bollywood be the Rockstar this year, or just Zakhmee as it mostly has been? Will it really be a Bheja Fry, or will it Fry our Bhejas?
Don 2, Ra.One, and Agent Vinod shall duly find out for us. Till then, excite yourself with the IPL, celebrate the cheer of our World Cup Victory, and wait. Don't forget the small releases every Friday, often, they contain wonders that these big films can never dream of having. So let's just wait and watch.
Till then, au revoir.