Hindi films have a song for every occasion, season, emotion, situation; you name it! And when north India was recently surprised (and delighted) by some unseasonal April showers in the past few days, that gave us a break from the pitiless pale blue sky and the torpor that seemed to have settled on the earth itself, I turned to my folder of rain songs on my iPod which add to the unalloyed joy of the first rains.
And I once again marvelled at the sumptuousness of Hindi film music, reiterating to myself the fact that Hindi film music has to be the richest, most diverse, most accessible and yet most incredibly melodic body of music anywhere in the world. Bar none.
Rains are so important to Hindi films – after all what would Hindi movies have been without the plot structure that requires the hero and the heroine to get caught in the rain having to take shelter in a deserted location and hey presto – there will be giving in to carnal urges and the inevitable subsequent uttering of the iconic Hindi movie line "Main tumhare Bachche ki maa banne wali hoon"!
When it comes to rain songs, any number of haunting, intoxicating and unforgettable songs come to mind. This is a subjective list and I am sure many will have divergent views, but here is my list of the best Hindi rain songs ever made (not in order or awesomeness; just roughly chronologically arranged)-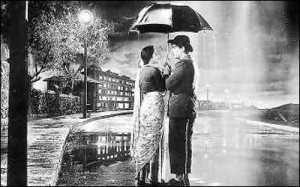 1. Pyar hua iqrar hua (Shri 420) – while not a song about rain, it is the iconic rain song – the lashing rain, the ineffectual umbrella and the couple conveniently snuggling under it – hiding from the rain and yet reveling in it.
2. Zindagi Bhar nahi bhoolegi woh barsaat ke raat (Barsaat ki raat)- Featuring the matchless Madhubala and alas someone I think of Bollywood's Mr. Rondu, Bharat Bhushan, this is nevertheless a beautiful melody with an innocent eroticism evoked by the rain
3. Ek Ladki Bheegi Bhaagi is (Chalti ka naam gaadi) Quintessential Kishore Kumar! Need I say more?
4. Hay Hay Yeh Majboori (Roti Kapda aur Makan) Zeenta Aman in a wet sari rather incongruously singing seductively to a rather retarded looking Manoj Kumar is nevertheless a song that is a leitmotif of my life – after we all have to frequently sacrifice our "lakhon ka sawan" at the altar of our "do takiya ki naukri"
5. Kya Mausam Hai (Doosra Aadmi) OK I confess this is not a rain song but this is the song my very heart signs, come the rolling dark clouds, the pitter patter of the first rains; that evocative smell of the newly wet earth falling on parched ground.
6. Rimzhim Gire Sawan (Manzil) – Both the Kishore Kumar version as well as the Lata Mangeshkar versions are simply beautiful, and anyone who has walked down Mumbai's Marine Drive in the driving rain by the furious sea, amidst hundreds of happy souls doing the same, will understand why.
7. Jalta hai jiya mora bheegi bheegi raton mein (Zakhmee) with Reena Roy and wigman Rakesh Roshan is revelation to us of what would have happened if Hrithik Roshan was acting during the fashion disaster 1970's. A playful, mischievous song that sticks in the mind – in a really nice way.
8. Aaj Rapat Jayen to Hamein na uthaiyo (Namak Halal) Not chosen for its lyrical or melodic merit; and there is a lot of writhing in rain puddles that looks distinctly uncomfortable and not altogether romantic. Chosen simply because of Smita Patil looking every inch the sexy Indian woman wrapped in 6 yards that most sexy of garments – the sari, particularly when wet.
9. Ghanan Ghanan Ghir Ghir aye Badara (Lagaan) This song signifies what the rain means to every Indian, how the rains are awaited, looked forward to, beseeched and welcomed each year. The fact that it is a rousing, energetic and top notch composition from A R Rahman is just a plus
10. Bheegi Bheegi Jadoo Bhari (Thakshak) This is one of the lesser known rain songs which is however superb both in terms of composition and melody, as well as the picturisation of Tabu's unalloyed joy in the drops of rain
10. (B) Abke Sawan aise barse (by Shubha Mudgal) Yes not a film song, but needs a mention here for her rich, earthy baritone, and the sheer joy of the rains and boundless energy that she brings to this rousing folkish sounding ditty. This one dates from the time when MTV and Channel V were still music channels and had not been taken over by the Reality TV invasion.
I am sure that many out there will think this list incomplete without their particular favourites (I had to leave out many favourites as well because this is a top 10 and not a top 100 list but feel free to add to the list), but if after reading this, if I have got any one humming a tune and got a smile on a face somewhere, then I know that there are those out there who share the same delight and wonder that I find in these beautiful songs!