There was a famous song of Shashi Kapoor's which went like "Khilte Hain Gul Yahan Khil Ke Bikharne Ko …. Milte Hain Dil Yaha Mil Ke Bichadne Ko". This song seems to reflect the love lives of most modern day film-stars of Bollywood. The older generation of actors were much more loyal to their partners and break-ups were rare. Or maybe they just lived behind a facade of normalcy and the media and general public never found out what was really happening in their lives.
These, break ups in Bollywood are the order of the day. Not only do relationships last for incredibly short periods, but each break-up occurs in full media glare and publicity. The frequency and intensity of the romance and it's ensuing fragmentation are all watched and commented upon by everyone who can read a magazine or watch television, and all of them join in offering advice and suggestions!!
Top 10 Bollywood breakups
Here is a list of the top 10 most famous and controversial Bollywood breakups which have taken place in the last few years.
1. Salman Khan – Aishwarya Rai Bachchan
It was a fairy tale romance. He was the handsome lover boy of Bollywood with a heart of gold, and she was the green-eyed girl who had conquered the world. They were in love and everything was peachy. 'Hum Dil De Chuke Sanam' showed us the intense chemistry between the two of them, but somehow, somewhere their paths diverged and they split up. It was probably one of the messiest break-ups that B-wood had witnessed. We were all privy to the drunken calls and bad language, and sadly a made-for-each-other couple were no more a couple. Aishwarya moved on and married Abhishek after a short liaison with Viveik Oberoi (that's entirely another story). Salman has been unable to settle down even after a long-stretched courtship with the lovely Katrina (reports of their break up are also doing the rounds). It is rumored that the public spat with SRK happened because of Aishwarya, hence, apparently the ghost of the relationship still haunts our dear Sallu bhai.
2. Aishwarya Rai – Viveik Oberoi
 Soon after the end of her liaison with Salman, Aishwarya found romantic refuge in the arms of Viveik Oberoi. Obviously on the rebound, their romance was an open affair and they even did a movie together. Viveik was absolutely smitten by the charm of Aish and when she decided to move on, he took a long time to recover and only recently has got married to Priyanka Alva.
3. Kareena Kapoor – Shahid Kapoor
 The romance between these two Kapoors was also an open affair.  At a time when most couples chose to keep their togetherness under wraps, Shahid and Kareena were spotted together anywhere and everywhere. They talked openly about living together as a couple and the magnetism between was very evident.  Then the unforseen happened – rumors have it that Kareena could not accept Shahid's interference in her professional life and that she got fed-up of his constant need to be together even when she was working abroad. Soon after the separation Kareena got into a relationship with Saif Ali Khan, and it seems to be still going strong. Shahid was also linked with several ladies like Amrita Rao, Sania Mirza and Vidya Balan. Latest news is that Shahid Kapoor is very much in a relationship with Priyanka Chopra.  This was was one of the most controversial Bollywood breakups in recent times.
4. Akshay Kumar – Raveena Tandon
 Most people will have forgotten about this relationship, but it hit the headlines when it crumbled. The affair was common knowledge and the break-up produced greater heartache for Raveena than it did for Akshay. Khiladi Kumar was known to be quite a playboy at that time and for many people their separation came as no surprise. Raveena's career took a downturn soon after this, and many believed that she was unable to recover from this separation.
5. Akshay Kumar – Shilpa Shetty
 Soon after his break up with Ms. Tandon, Akshay hooked up with the hot and sultry Shilpa Shetty. She may have lacked in the "nose department" back then, but even then she had a very sexy figure. Their affair lasted for quite some time and they even got engaged at one point. People were already surprised that Akshay, the casanova was ready to settle down, but soon the inevitable happened. He broke up with Shilpa too. It is said that Akshay's growing closeness with Twinkle Khanna was the reason behind the break up. Post Shilpa's win in the reality show 'Big Brother', Akshay allegedly revealed intimate details of their sex life, thereby rejuvenating the interest in this long-ended romance.
6. Abhishek Bacchan – Karisma Kapoor
This was a match made in the Bollywood-heaven. The Kapoor girl and Bacchan boy had got engaged and two members of Bollywood's prime families were about to be united in holy matrimony. The reasons behind their break-up remain unknown till date, but the rumour mills speak about Big B's opposition to the match and about Babita's objecting  because Abhishek was still a struggling actor. They both parted and went their separate ways, with Abhishek marrying the lovely Aishwarya, and Karisma marrying Sanjay Kapur and settling down to motherhood and a troubled ( if rumours are true) marriage. The long-term effect of the break-up has been Kareena's unwillingness to work with Abhishek Bacchan since then.
7.  Ranbir Kapoor – Deepika Padukone
When Ranbir debuted, news of his on-going affair with Deepika Padukone had already started making the rounds. Deepika, the long legged babe and Ranbir, the latest chocolate boy on the block made a handsome pair. They were young and looked very much in love. The break up was abrupt and messy. Post the falling apart, Deepika made a few snide remarks about the junior Kapoor which left his father, Rishi Kapoor fuming and indignant. It is commonly believed that the reason for the separation were the frequent indiscretions which Ranbir indulged in while he was still romantically involved with Deepika.
8. Bipasha Basu- Dino Morea
Bipasha and Dino were were a well-known couple when she debuted in Bollywood. Her struggling days were all spent with Dino Morea. He was a successful model in his own right, but apart from Raaz (starring opposite Bipasha), he did not succeed in the Bollywood film circuit. They separated soon after Bipasha began to achieve a fair degree of success as an actress and post the break-up she went into a relationship with the gorgeous John Abraham. They look beautiful together, so she definitely chose well.
9. Lara Dutta – Kelly Dorjee
Lara Dutta and Kelly Dorjee were together for a long, long time. They were seen everywhere as a couple and they looked happy and content. Kelly Dorjee had been Lara's friend since her modeling days and their break up came as a big shock to everybody who knew them personally or professionally. Lara is now planning to get married to the tennis ace Mahesh Bhupathi, whereas Kelly Dorjee seems to have just vanished from the public domain.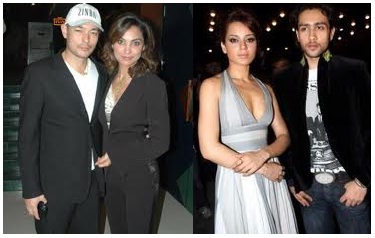 10.  Kangana Raanaut – Addhayan Suman
They were the young couple of Bollywood and while Kangana was a big actress by the time they hooked up, Addhayan had not even begun to take the initial steps. Son of veteran actor/comedian Shekhar Suman, Addhayan was known to be under pressure from dad and mom to avoid getting involved with Kangana. They separated amicably and are among the few ex-couples who are still on talking terms with each other. The only testimony to their relationship seems to be the movie Raaz 2 in which they acted together.