You couldn't have watched the recently concluded Cricket World Cup Finals and Semifinals without repeatedly having seen the new handlebar mustachioed look sported by Aamir Khan who was present at the stadium with bespectacled wife Kiran Row in tow.
Aamir Khan is one Bollywood actor how has consistently experimented with new looks, evolved new personas and fitted his physicality into the mould required by any movie that he works on. His new look, sporting the classic handlebar mustache got us all wondering what or who he is going to play next for which he developed this new look.
His patient and precise character development is almost legendary in a film industry where actors are too busy being themselves and sporting their 'own style' to lend themselves to and immerse themselves in the character they are playing. It has been a remarkably varied bunch of roles he has played over the years, along with the very different looks he has sported.
In his earlier films he was much the same; the sweet youthful boy who looked as good running around trees with nubile nymphets as he did with his face covered in blood when he was being beaten to a pulp by villains twice his size. Qayamat se Qayamat Tak, Love Love Love, Dil, Dil hai ke Manta Nahin, Raja Hindustani, Parampara and suchlike films saw him as a reasonably trendy young man, dressed the usual filmi way sporting the filmi hairstyle of the day (long at the nape of the neck, if you remember).
However when he then gave us a spate of films of quite startling diversity, he made us pause to think – and to notice and perchance admire a star; the kind of which we had not seen in Bollywood before. He was a school boy, traipsing over hilly towns on a bicycle with a bunch of aimless down at heel friends in Jo Jeeta Wohi Sikandar.
In Baazi, which came hot on the heels of Jo Jeeta and that iconic mad caper Andaz Apna Apna,  he was a clean cut tough cop Amar Damjee who occasionally moonlighted as a singer in drag (who can forget Aamir's delightful rendering of Dole Dole Dil Dole, the Come September rip off, dressed in a evening gown slit up to the thigh and a curly wig). The remarkable thing was that Khan was as believable playing a school boy as he was playing the upright cop and drag queen!
The Avatar of Aamir Khan
In Ghulam he was the eternal Mumbai tapori complete with jaunty hat and humungous rings
Right after this he was top cop Ajay Singh Rathod in the stirringly patriotic Sarfarosh
In Deepa Mehta's Earth (1947) he was the charming but ultimately merciless ice candy man, right down to the lingo and clothes of the time
He was the village simpleton in the dhoti and turban for arguably the best cricket film ever made –Lagaan
Right after Lagaan, he personified urban cool with his edgy new hairstyle and uber modern hang-loose clothes in Dil Chahta Hai
For Mangal Pandey he grew his hair and a very real military style moustache (not for him the fake stick-ons and wigs that Bollywood stars routinely favour)
He sported two very distinct looks for Rang de Basanti – he lost 10 kilos to play the long haired worthless lay about DJ and the crew cut revolutionary with the light of martyrdom glinting in his eye in the very same film.
Moving on, he then played an art teacher in the critically acclaimed movie, Taare Zameen Par.
For Ghajini he developed the kind of physique that was hard to believe; as for his hair style in the film, well enough has been said and written about that
Promptly after Ghajini, we went on to shed oodles of weight and muscle so that a 43 year old could convincingly play a 21 year old engineering student for 3 Idiots and guess what he pulled it off; with elan!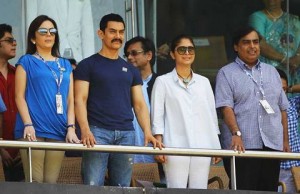 Much is now being written and said about the new Aamir look with the handlebar (or is it known as the bow shaped chevron moustache as it is being referred to in the press), as he prepares for the new Reema Kagti (of Honeymoon Travels Pvt Ltd fame) suspense thriller  in the making, which will star Rani Mukherjee and Kareena Kapoor apart from Aamir Khan.
Whatever he decides to do, Aamir Khan tends to capture the attention and the imagination of an entire nation, making a billion souls anticipate and await something new, something (pardon the cliché) invariably hat ke.