Hindi films have generally been an eclectic mix of movies which are based on one single emotion – that of love. Every movie, be it one concerning evil anarchists or fun loving friends, rich uncles or fathers with loads of money just waiting to be looted, life in general or politics, melodrama or sugar-coated stories, the archetype villain of Hindi films through out history, starting from the 50s usually consisted of dandy characters out to woo heroines by torturing their chocolate hero enemy. Hence the archetypal 'Bollywood Villains' were born.
In recent times however, we have seen many traditional heroes doing roles of the anti-hero. The first one to dare such an act in our generation was Shahrukh Khan when he broke all rules by playing the role of the anti-hero in 'Baazigar'. Following in quick succession was his role as the creepy stalker in 'Darr'. He had managed to portray the character with such a chilling persona that he had scared the living daylights out of his co-star, Juhi Chawla. Both these characters changed Shahrukh's destiny forever, making him perhaps the most talented and daring actor in those times.  Came Sanjay Dutt as the grinning and lovable villain in Subhash Ghai's now cult movie, Khal Nayak. Sunil Shetty (Dhadkan – 2000), then Akshaye Khanna (Ajnabee – 2001) and Ajay Devgan (Deewangee – 2002) have also managed to win critical acclaim for their successful portrayal of negative characters in mainstream cinema. For the past few years Bollywood's lead heroes have been bagging the 'Best Villain' trophy at various film award functions, leaving behind tinsel-town's regular baddies Amrish Puri, Prem Chopra, Danny Denzongpa, and Gulshan Grover.
Anyway, the point is that Bollywood villains have always occupied a very special place in Hindi cinema and as a tribute to them, here is my take on the greatest villains of Bollywood. This list is based on personal and some critical views, the versatility, originality, villainy, creativity, and the overall believability of the characters played.
Most Enduring and Memorable Bollywood villains
Anupam Kher as Dr. Dang in Karma
Karma is Subhash Ghai award-winning patriotic movie which featured Dilip Kumar and Naseeruddin Shah alongside Anupam Kher as the villanous Dr. Dang. Many consider this to be one of the best performances of Anupam Kher as a believable Bollywood villain.
Shahrukh Khan as Vicky/Ajay in Baazigar
Though this Bollywood villain might not be remembered by most buffs in terms of their personality, dialogue, attire, etc. and other similar facets that make up a character worth remembering, I have put him on the list because of what this movie and the role portrayed by SRK represents on the whole. He pulled this off at a time when no one could possibly imagine that an actor with  chocolate boy looks could play the role of the anti-hero successfully.  One of the most defining characters of Bollywood, Shahrukh Khan played a negative role in this film and came out as the most versatile, daring and talented actors of the 90s.
Raj Babbar as the rapist in Insaaf Ka Tarazu
Essaying the role of a rapist, Raj Babbar was catapulted into instant fame after his excellent performance in Insaaf Ka Tarazu. One should watch this movie for the superb tension and tight control of the characters that has become a benchmark for many.
Danny Dezongpa as Bakhtawar in Hum
Danny plays the role of a local mobster who collects money from hapless dock-workers. Amitabh Bachchan stars opposite Danny in this timeless hindi movie. The role of Danny is memorable because this was the second movie after "Agneepath" in which Amitabh and Danny starred in opposite roles.
Sadashiv Amrapurkar as Maharani in Sadak
Manoj Bajpai as Bhiku Mhatre in Satya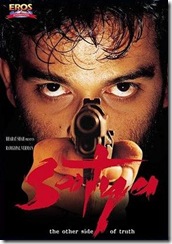 Sanjay Dutt as Ballu Balram in Khal Nayak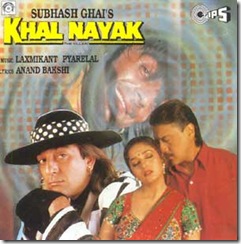 The fun-loving, joke-cracking colourful villain portrayed by Sanjay Dutt in Khal Nayak is perhaps one of the most cherished of the troubled actor. His dialogues in the movie, the attire – the whole personality just seemed perfect to make this character memorable. Do not miss the "Choli Ke Peeche" track on the album – a staple of fun loving Indians.
Nana Patekar as Anna in Parinda
Nana Patekar delivered a really powerful performance in the movie which earned him accolades at various award ceremonies. Not only that, but his talent as an actor was also recognised by many. This movie also launched his career as one of the most dearly loved Bollywood villains of all time.
Kulbhushan Kharbanda as Shakaal in Shaan
An ever-green movie, Kulbhushan Kharbanda will always be remebered as the evil balded villain who fed traitors to his pet sharks. The iconic Shakaal laughter and his distinct style of speech is also worth mentioning.
Ajit as Loin in Kaalicharan
What can be said about "Mona Darling" and Ajit as Loin in this timeless classic. A true masterpiece with plenty of originality.
Shahrukh Khan as Rahul in Darr
The movie which made Shah Rukh Khan perhaps the most wanted actor of Bollywood in the 90s. He defined the role of the anti-hero at a time when no one thought it was possible. The "kkkkkiran" has been associated with King Khan a million times.
Amrish Puri as Mogambo in Mr. India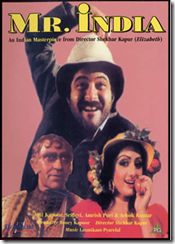 Amrish Puri is one of India's first few Bollywood villains who put so much villainy into any character that he portrayed that it became surreal. For this reason, and many more, he will always be remembered for his role as the evil anarchist out to destroy. "Mogambo Khush Hua" – I will only degrade it by uselessly praising it. We know what it means, don't we?
Amjad Khan as Gabbar Singh in Sholay
Even though Sholay was a cocktail mix of almost seven Hollywood movies, no one had ever seen a Bollywood villain so drenched in villainy as Gabbar Singh. As he is the top of the pile, it is next to impossible to choose just one memorable line. Obsessive film buffs might just quote the entire dialogue of Gabbar Singh, so memorable and powerfully scripted his lines are. Therefore, I will single out a few which happen to be the most common and popular lines of Gabbar Singh in offscreen adaptations, small acts on televisions by comedians and those seen in parodies.
Legends of Hindi Cinema who will be remembered as the typical 'gunda' of our movies
There was an era in Bollywood when some filmstars were steriotyped as the typical villain in bollywood. There portrayals as the baddies in hindi cinema strengthened this character to a new level altogether. I cannot possibly narrow down these legends to just one or two movies. Most of them have done so many roles as villains (30+ in some cases) and delivered fine performances in all their films, that it becomes next to impossible to point out one marvellous role.
Pran
Among his notable roles are the title role of Halaku (1956) and the fearsome 'Rekha' in Raj Kapoor's Jis Desh Mein Ganga Behti Hai. Having played all kinds of 'negative' characters Pran took everybody by surprise by playing a positive character in Manoj Kumar's Upkaar (1967).
More positive characters followed in films like Parichay, Ansoo Ban Gaye Phool, Zanjeer, Majdoor, Kasauti, Dus Numbri, Kaalia, Don, Victoria no. 203, Naseeband Amar Akbar Anthony. Roop Tera Mastana (1972) was his last film as a villain.
Ranjit
Ranjit was so in demand for villain in the 70's and 80's at one time he had 50 to 60's films in month that were under production or were being shot or being finalized. Ranjit has worked in so many films as a villain and delivered such fine performances that it became really difficult for me short list just one movie. Its a personal favourite so i put it on the list. 'Muqaddar ka Sikander' definitely showcases the ability of Ranjit as a talented actor at his peak.
To read more about Ranjit as a villain, click here.
Gulshan Grover
The Bad Man of bollywood, Gulshan Grover has a lot of desi hindi movie behind him but there was a time when he reduced most of his characters to cheap, funny outfits with even cheesy styles. However, Gulshan Grover has done plenty to define the role of the negative character in Bollywood. Notable performances are : Yes Boss (1997), Raja Ki Aayegi Baraat (1996), Criminal (1994), Mohra (1994), Raja Babu (1994), Kurbaan (1991), Ram Lakhan (1989) and Rocky(1981).
Danny Denzongpa
Much in the same league as other greats of bollywood Danny has also done a lot of roles as a villain in hindi cinema. His facial expressions were the reason his roles were so believable and for this reason, he has won several national awards. Danny Denzonpa's has more than 150 movies to his credit. Danny Denzongpa movies.
Amrish Puri
I have already discussed Amrish Puri. You can check out more Amrish Puri.
Prem Chopra
From small time crook roles to the mega villain roles, Prem Chopra has spent a lot of time in the industry and in turn, contributed a lot as an artist. Prem Chopra had this distinctive style of laughing and speaking which set him apart from his contemporaries. There were so many facets to this legend, it has hard to count them all. Nevertheless, Prem Chopra will always be remembered  as a star of the yester-years.
If I have missed out any notable performances, please share through your comments and feedback. Whom do you think are other interesting characters shown as bollywood villains onscreen? Share and help me improve our knowledge of hindi cinema. 🙂