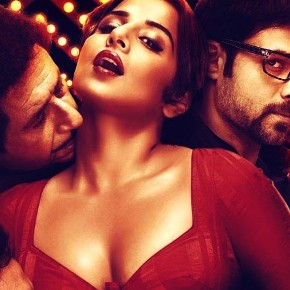 The Dirty Picture – Vidya Balan's latest Bollywood film has shown us stills of her in super sexy outfits, with no pretenses about being a demure and decorous female. Vidya Balan is oozing sensuality, and her "I couldn't care less" attitude is evident in every image. This is in sharp contrast to our earlier perceptions about Vidya – the coy next door lady, traditional and decorous in most of her dealings.
Vidya Balan plays a sexy siren in The Dirty Picture – when did that happen?
Ishqiya showed Vidya at her raunchiest best and it seems her performance in The Dirty Picture will be a notch higher in this genre of films. All set to release on 2nd December, The Dirty Picture is getting rave reviews for it's catchy songs and controversial characters. Vidya Balan is playing the role of a South Indian item girl based on the life and times of real life South Indian actor Smithaa, popularly known as "Silk Smita". Read more about The Dirty Picture.
Story

Originally we believed that this was to be a biopic based on the life of the beleaguered Andhra Pradesh starlet Silk Smitha, who committed suicide in 1996. However, the producers, after a law-suit from Smitha's brother, have clarified that it is the "romantic journey of a fiercely ambitious starlet who dreams of making it big on the silver screen".  The film is set in the 1980s, and is centred on Mumbai's highly competitive movie industry, and the emotional turmoil in the lives of all those who step into this arena.
Cast
Vidya Balan is the main performer in the film. She has conquered the niche of female oriented roles and there are few actresses who can match her prowess in this field. She makes erotica look tame while flaunting her voluptuousness, and yet she manages to evade the tag of vulgarity. Naseeruddin Shah is her co-star again, and she has the eternal kisser Emraan Hashmi  and Tushaar Kapoor as her romantic counterparts.

Music

The music for this film was composed by Vishal-Shekhar and the lyrics were written by Rajat Aroraa. So far it has not really taken the country by storm, though the song Ooh La La, with a 80s rhythm to it, has been on the best-seller charts for some time. The fact that Bappi Lahiri is the singer should give you a good idea of what the song is all about.

Perception

The loneliness of a young starlet's life in the 1980s was something that never got mentioned in the gossip columns. They only paid attention to her cleavage and her innumerable liaisons, ignoring the difficult lives they led. If Milan Luthria has directed Vidya Balan well enough to reach the heights of her histrionic talents, then this will be a film to watch, not just for it's titillation factor but also because it will be a tale well-told.

Will The Dirty Picture hit it?
What with Vidya Balan romancing Naseeruddin Shah, Tusshar Kapoor and Emraan Hashmi, The Dirty Picture will definitely make movie buffs go Ooh La La. Surprisingly, there are still some people who can not bear the apparent sleaziness being publicized.  The Pakistan Censor Board has actually banned the film in their country! And they said Urdu could make us more romantic…sigh! Let's hope better sense prevails and they allow art to be shown as what it actually is – art.
As for reactions from other celebrities about The Dirty Picture, Bollywood is abuzz. Everyone has high expectations with the movie. In fact Karan Johar tweeted:
"Her performance in The Dirty Picture is by far the bravest and best performance I have seen of any actor in years, she is the benchmark."
Emraan Hashmi is on another level altogether. Here's what he has to say about his acting career, with a film like Dirty Picture under his belt:
"I have contaminated the film industry. If not I, then someone else would have done those bold acts. Cinema has to evolve, I was the face of something that was bold, that raised eyebrows. Some of the cultural dictators of the film industry said what he (Emraan) has done, this is not Bollywood, what kind of films are these, this is not our culture."
Let's hope all the hype abut The Dirty Picture lives up and we get to see some raunchy cinema in mainstream Bollywood!
Read more: