Ever since the comely Anuja Chauhan wrote the hugely entertaining and laugh out loud funny The Zoya Factor and Battle for Bittora, it was safe to conclude that chick lit had arrived in India. But as to the other question, has the Chick Flick arrived in India; the answer is rather less unequivocal.
A few months ago we the film going junta, were presented with Aisha, an adaptation Jane Austen's early 19th century novel, the Sonam Kapoor and Abhay Deol starrer and were told that this is India's first chick flick. Then they gushingly informed us that it was Turning 30 that was India's "first contemporary chick flick" – this Gul Panang starrer, was supposed to be India's answer to The Bridget Jones' Diary.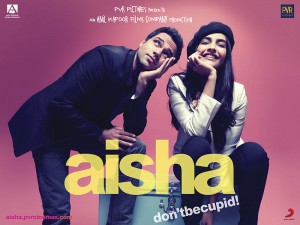 Most recently the film that was touted as a chick flick was United Six, starring six relative unknowns, (Parvathy Omanakuttan, Daisy Bopanna, Luna Lahkar, Mahi, Isha Batwe, Pooja Sharmawhich) which alas sank without creating so much as a ripple; and without troubling the box office to revive from its cricket induced stupor.
So can we in fact say that the chick flick has arrived on our shores? Well yes and no. These films may fulfill some of the criteria of required to be slotted within the chick flick genre but not so much that you can claim with any degree of certitude that Bollywood has indeed the grasped the rudiments of the chick flick.
On the count of being female oriented, these films do pass – they are stories that revolve around women, with women in the lead and they touch on female issues. In a film industry that is largely male dominated and in which films routinely get made where the 'heroine' is only cosmetic and incidental to the story, making appearances only for the songs, this is a welcome departure from the norm. That the female film viewing public is now being considered as a significant demographic to be catered to, is certainly something to be hailed.
However on many other counts, these films don't quite make the 'chick flick' grade – though Aisha contained a lot of style and frothy sweetness, there were few Indian girls who could relate to her champagne cocktails and designer dress lifestyle. I mean how many women in India wear hats! Certainly on "frivolity, artlessness, and utter commercialism" (the essential prerequisites of the chick flick according to the New York Times), the film scores high, but in terms of substance and content, and a story that tugs at the heart-strings, there was really nothing there.
If Turning 30 was supposed to be a desi Bridget Jones, it didn't quite make the mark – though it did have some of the humour, the portrayal of the many insecurities and secret aspirations that women of a 'certain' age have, the joie de vivre of being an independent modern woman was somehow missing.
As for United Six, alas this one passed me by completely, so all I can say is Huh?
I think it is these specific elements or tenderness, humour, visual style content, female bonding, and women's issues (both serious, like marriage and the biological clock, and frivolous like nail paint shades and ingrown hair) that speak directly to a woman; that define the chick flick and on which counts these films don't quite hit the mark. So perhaps the chick flick has a little more "arriving" to do, before it does in fact lap our shores?