Ace director Sanjay Leela Bhansali  upcoming hindi movie 'Guzaarish' is all set for a november release. The first look of Guzaarish is already out with an enthralling trailer that is keeping Bollywood fans mum. The movie stars Hrithik Roshan and Aishwarya Rai. The shooting of Guzaarish has been on the floors since the end of 2009. This is not the first time that Sanjay Leela Bhansali is making a movie that has the central character with a serious disability.
[ad#post-large]
Guzaarish – Plot
The beautiful jade scenery being whipped by clear blue waters, all covered under the warm bright sunshine of Goa – welcome to the home of one of the greatest magicians of his time – Ethan Mascarenhas (portrayed by Hrithik Roshan)
Ethan is aided through every moment of his present life by the epicentre of his world – his Nurse, Sofia D'Souza (played by Aishwarya Rai). Theirs is a love beautiful in its implicit silence, unwavering in its quiet strength and spirited in their constant verbal sparring.
[ad#post]
On the fourteenth anniversary of his accident, Ethan decides to seek control over his own life and teach magic to a young man named Omar Siddiqui who is determined to learn the crafts from the best in the line.
This change in his life affects his relationship with Sophia, which forms the central theme of Guzaarish.
While on one hand Ethan passes on his magical gift, he fights his inner demons on the other, which have denied him the most fundamental right – the right to life. What follows is a tumultuous ride through a maze of emotions and visual splendour. Only the real life filmmaking genius of Bhansali could have conceived such a treat.
However, Bhansali has always been known for two things. The visual splendour in his films (which was quite evident in Devdas and Saawariya) and the second thing that he is rather infamous for is getting 'loosely inspired' from other stories. Guzaarish is no exception to both.
Cinematographer Ravi K Chandran has created some really alluring visuals scenes which one can but take a whiff of in the trailers. The music of Guzaarish has been composed by Bhansali himself, making his debut on the Bollywood music scene.
However…
Some say that the movie is a remake of the Hollywood blockbuster with a few sophisticated twists and Bollywood spices thrown in. The critically acclaimed Black was inspired from The Miracle Worker and Saawariya were 'loosely inspired' from 'White Nights', a Russian short story.  An industry source feels that there are similarities between Guzaarish and the Sea Within.
According to various other media reports, Guzaarish was reportedly a remake of Christopher Nolan's Hollywood movie 'The Prestige'. However, Bhansali rubbished the claims.  All I can say is that a leopard can't change his spots (or in this case, his beard).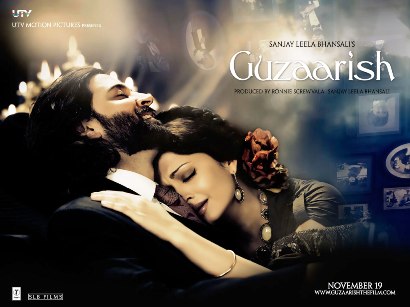 Industry sources also claim that the film is a 50-50 joint venture between Bhansali and UTV Productions. Now incidentally, Hrithik Roshan and Aishwarya Rai Bachchan's last film together, Jodhaa Akbar was also a UTV production.
Interesting News:
Reportedly, Salman Khan is miffed with Bhansali and has vowed never to work with him again. Reason being, it was his idea to the bearded maker to remake the Hollywood dark thriller, but Bhansali kept him in the dark and began the project with Hrithik instead.
[ad#post]
More resources:
Check out the trailer of Guzaarish on Bollykings.com and then perhaps you could check out the official website of the movie here.