This was supposed to be the FIRST BIG FILM of 2011. Oh yeah… it's a BLAST.
It would be an understatement that despite promises, Ready fails to entertain you. Because in fact, even though it was clearly expected by most that Ready was going to be a bad film, 2011 has been a year that gave us some beautiful films and cinema. Therefore, Ready seemed worse that it really is… for starters, even 30 minutes after the intermission, I had not laughed. And I can never know if I would have laughed after that or not… because I walked right out.
Ready is a typical Anees Bazmee film: loose plot, bad acting [most of it, at least], poorly scripted with a loosely tied string of jokes that it seems don't even try to make you laugh. Salman Khan was doing brilliantly what with all his stunts in the Wanted and Dabangg-types of our industry. I don't know why he suddenly came down to his failed experiments of comedies? He can act, but only when there's a Dabangg up for him, not something that requires timing and all that. Sallu fans should be disappointed.

Ready fails at the absolute basic: having a simple story that gives space to laughter. It's an utterly confusing story where a girl pretending to be some other girl seeks shelter in a family who're looking for that OTHER girl that girl is pretending to be,
because this other girl is supposed to marry Prem [I'm just plain irritated at the number of times Salman's chaaracter is called 'Prem'], because so said some Baba from the Ashram. Unfortunately this girl who is pretending to be some other girl is of a mafia family and they're out to look for her because they have to marry her to another mafia dude, and this girl doesn't want to get married to that guy so somehow she finds shelter in this home where Prem is, and they all think that she is THAT girl, the one she is pretending to be.
Obviously Prem finds out the truth, and obviously they fall in love, and obviously the family finds out the truth eventually, and obviously they can't decide whether to hate the girl or love her, because even though she lied to them, she is a very 'susheel' and lovely girl from USA. And obviously the mafia family gets this girl back, and obviously Prem the Dabangg hero will get her back all alone.
And obviously there's some problem in the mafia family as well… the two brothers are at loggerheads with each other because there's a big family inheritance of 200 Crores that both want. And thus, their love and friendship would be a solution to all because then they would see everything clearly… and obviously Salman Khan the Dabangg will set that right as well. Wow. Such an original story, Mr. Bazmee!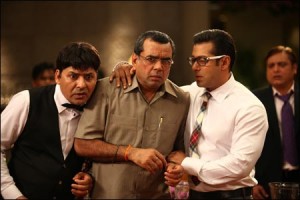 Let's start with the performances. We don't get to see the one decent actor, Paresh, till a little after the intermission. Asin has done ok, I accept, but Salman Khan has just become so cliché with the same expressions, the same dance styles, the same punch-line deliveries, that it's time for him to just stick to stuff like Dabangg.
Then, the direction. Yeah… it's ok. Doesn't get boring, but all humour sequences are unnecessarily stretched, maybe with the hope that people would laugh at the stupidity of the characters if they have more time to see it.
The dialogues are poor. Very poor. The sense of humour is desperate. As if there really is nothing to say at all… so they just try and put a joke in every sentence.
The camerawork is fine, the editing is fine, but the dubbing is so obviously not given any time and thought. In fact, the dubbing is horrible. The mouth says something else and our ears hear something else. Gah.
The overall effect is disastrous. Even though I know this film will do well, because it's a bad comedy and it has Salman Khan to boost it. The people around me were loving it, as I'm sure 50% people will. But the fact remains, and those who have to know will know it, and will understand it. Are you Ready, Ready asked. I say, no man. You're so old now. I don't ever want to be Ready for something as Un-Ready as you.
Ready sucks. Period. Very bad. Very, very baaaaaad.