As one enters a theatre screening the latest Rajinikanth starrer movie, Robot a.k.a 'Endhiran', everything from outside the filmy world is quickly forgotten. You are swept through to the other side. A world where Rajinikanth is god. Where fans are devout soldiers, humbly kneeling in the deepest respect and admiration before this South Indian superstar.
Every dialogue, stunt and dance number that the towering figure called Rajinikanth performs is welcomed with whistling so loud, cheering so boisterous and hooting so joyful, it is surreal. All tensions gone, all worries vanished, it's a matter of minutes before you, the civilised, well educated Indian, loosen up and join the chorus all around you, laughing and crying with the same zest as any other Rajini fan.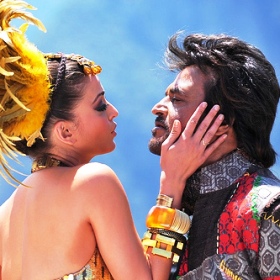 Soon the hue and cry surrounding Endhiran settles, and the most obvious question pops up in your head – Why is Rajinikanth so popular? What does this balding superstar have in him that makes him what he is? Why is it that when he throws a cigarette in the air, lights it with a revolver and catches it between his lips, the crowds go absolutely crazy and it doesn't seem stupid?
Why is Rajinikanth so popular?
Three qualities which ebb and flow from Rajinikanth, and perhaps don't from his contemporaries are:
Unmistakable Style – Most of Rajinikanth's popularity has arisen out of his unique mannerisms, stunts and style of dialogue delivery. Rajini is perhaps the only superstar in cinema who can get away with gravity defying stunts such as running horizontally on the sides of a rain or killing a gunda miles away by throwing a pistol in the air, then firing with another pistol on the trigger of said pistol, over a huge wall. Such stunts have been trademarked as 'Rajinikanth waale stunt' by the general public. With Endhiran, Rajini stunts have taken on a whole new level, that of science fiction. There are not one, but literally hundreds of robots of Rajini performing fantastic stunts in Endhiran.
Down- to-earth Sympathy – Rajinikanth, born Sivaji Rao Gaekwad, had worked as a bus conductor. Maybe that's another reason why his fans can connect with him. He was one of them, and still is, in spite of all the fame and money. A person so humble and down-to-earth elicits such mass appeal? Quite believable actually.
Philanthropy – Unlike a lot of other superstars in India, Rajinikanth has quite a 'bada dil'. He is known to have donated crores of rupees for the welfare of people in Tamil Nadu. He converted his personal banquet hall into a charitable trust for the needy. The guy keeps his uniform and belongings from his bus conductor days, he knows what it's like to fight for your daily bread.
It's only in India, where the daily lives and stories of its people defy logic and rationality day after day that a superstar like Rajinikanth can be born. He's fame, his demigod like status in South India, and the box office success cannot be explained by anyone in the film industry.