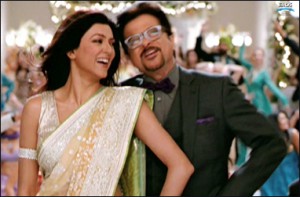 After No Entry, Welcome, and Singh is Kinng, Anees Bazmee is back with another full-on slapstick comical entertainer, boasting of an ensemble star presence. Like the director's other films, No Problem has larger-than-life visuals and peppy music to add to the "feel-good" laugh riot. However, the music scores of the film is not quite captivating as we hoped it would be.
Wajid, Suganda Mishra, Khurram Iqbal, Suzzane Demello, Bhishak Jyoti and Kamal Khan are the voice behind the songs. In spite of the fun and frolicking dance number, the title track unexpectedly fails to entertain the audiences.
Keeping aside the title track, there is a tribute to the Columbian singer, Shakira. The song titled "Shakira" turns out to be the chartbusters with loads of "masti" and scintillating music. The music connects with the audience; it has a Punjabi folk flavor and the raunchy tone of Pritam's hip shaking composition makes it a hit DJ number. With right promotion, the song can be heard in parties and marriages. The beats are a typical late night party treat.
Next in line is the song "Babe Di Kripa" – an interesting mix of Kalpana's Western music style and Vikrant Singh's hardcore Punjabi element. The song is not foot tapping as "Shakira" but should fare well with Vikrant's original voice. Like "Shakira", the song will hopefully find its way into the New Year DJ collection. The third Punjabi beats based track in the collection is the song "Mast Punjabi", available in remix version as well. Sung by Sunidhi Chauhan and Anand Raj Anand, the song is highly addictive. In this song, Anand Raj Anand is the singer, composer and lyricist also.
After these three songs comes the disappointing "We Are Innocent" – a track by Pritam himself. Well, the song reminisces of the early 80s and 90s dance numbers but it simply lacks the zing usually seen in Pritam's work.
Overall, the songs are not overtly disappointing. We hope the film does better than its songs
Listen to the Hot New Tracks from No Problem: