November 26, 2010
Cast and Crew:
Director: Faruk Kabir
Producer: Ravi Walia
Actors: Naseeruddin Shah (Warden); Sharman Joshi (Vijay); Faruk Kabir (Yakub); Atul Kulkarni (Ashwani) and Anjana Sukhani (Sandhya)
Synopsis
The movie is the journey of two 12-year-old juvenile delinquents, growing up in the slums of India. With the help of a transvestite friend, the boys initiate themselves into the mafia world. After wrongly convicted for murder, they are sent to a juvenile reformatory and from there begins their journey towards understanding life in 'reality'. Warden and senior inmates torture them but unknown to them, the boys are developing sinister plans to fulfill their quest for ultimate power. After their release, they start a gang with other teenage slum boys but unexpected events force them to make a choice between power and redemption. What do they choose?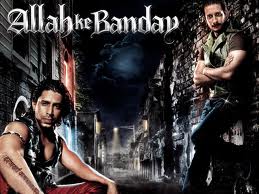 Media Buzz
Allah Ke Bandey is a decent watch. Dealing with a realistic story, the director reaches out to all those kids who are victims of crime and misdeeds. The film is watch-able for not only its genre but for the treatment, the director gives to the plot. The story is unlike the rom – coms, senseless comedies and thrillers lapped up at the box office these days. In all, the critical acclaim the movie has garnered is impressive for a first – time director.
Why Should You Watch It?
Allah Ke Bandey honestly and realistically portrays the changing face of Indian cinema. In terms of experimentation, it is a notch above the ordinary. One can find resonance of the films 'Sleepers' (1996), 'City of God' (2002) and 'City of Gold' (2010). Watch it for the gripping and interesting plot and execution. While the direction may seem sloppy sometimes, like the middle of the second hour when there is practically no movement in the screenplay, but overall, the director makes a powerful impact upon the young Indian generation.