It was Mother's Day this last Sunday and Bollywood stars spoke in one voice in honouring and revering their mothers on the day. Stars such as Aamir Khan, Bipasha Basu, Millika Sherawat, Ritiesh Deshmukh, and a host of others wished mothers everywhere and particularly their own mothers on the day using Twitter to communicate their love to mothers.
The Filmi Maa
The mother connection has been a long and time honoured one in Bollywood – "Maa ka Ashirwaad" has been hugely important in Hindi films – the first salary is always deposited at the mother's feet, the deepest sacrifices are always made to pay the debt of the many  that the mother would inevitably have made to rear her child overcoming every adversity. Avenging the killing or insulting of a mother is often the story base of a Hindi film.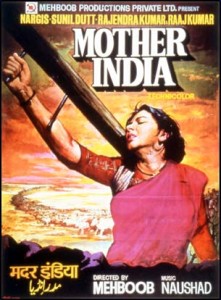 Mother's love is an exalted thing in Hindi films – a shining beacon of all that is all forgiving, selfless and generous and eternally loving, Mother India's character played by Nargis notwithstanding. It is also mother's love that will resolve all issues and enmity between warring siblings in the end.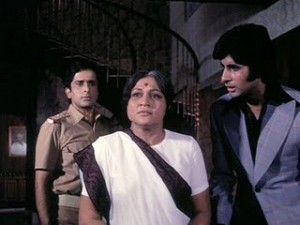 Consider the pivotal role that the archetypal Hindi film mother; tearful, eternally conflicted – that Nirupa Roy has so often played in Bollywood films. She is the way and the reason for the reuniting of the three brothers in Amar Akbar Anthony (remember that implausible but hugely endearing scene when all three sons donate blood to their mother simultaneously without knowing that she is their real mother?). She was the reason for the uttering of one of Hindi cinema's most cult lines "mere paas Maa hai!" in Dewaar – when Shashi Kapoor's upright police officer character makes it clear to Amitabh Bachchan the criminal that money, riches, and fancy things are nothing when compared to mother's love! More recently it was Dimple Kapadia's mother character in Dabangg that inspired family loyalty and acted as a unifying factor for the disparate elements of the family.
Then Came The Winds of Change
The mother figure in Hindi films has evolved very considerably from earlier days to now. Then she was the tearful, sari clad, self sacrificing; played by Durga Khote, Kamini Kaushal and Nirupa Roy. Now she has evolved into someone smarter and trendier; someone who is able to be friend, guide and helpmate for her child; figures that are stronger and more self reliant. Strong female actors such as Hema Malini, Kirron Kher, Dimple Kapadia, Ratna Pathak Shah and Lilette Dubey and others have today completely redefined the 'Maa' factor in Hindi movies today.
Witness the strong independent mother portrayed in Paa by Vidya Balan (a film incidentally that I think should have been named Maa). So the mother portrayal has certainly evolved in recent times, to present a more realistic feminine ideal.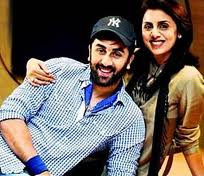 Real Life Mothers Take The Cake
And not just in reel life; but also in real life, mothers are strong influences in the lives of actors and actresses. Abhishek Bachchan attachment to his mother Jaya is well known, Ranbir Kapoor's devotion to Neetu Singh is perhaps even more so. Kajol-Ajay make frequent appearances with Tanuja and Dimple Kapadia is rarely seen in public without her daughter and son-in-law "chaperoning" her. Today, the actresses' mothers do not necessarily tag along on the sets but instead play a vital role in guiding the actress-daughter's career. An example in this case in Hema Malini who has maintained a dignified distances from her daughters' careers.
More notably, there are the new age mothers like Sushmita Sen, who didn't think marriage was a stepping stone towards motherhood and certainly proved it and Kajol who gave up a thriving career for the joys of marriage and motherhood. Clearly, these moms rock the scene when it comes to rubbing the stereotypes into dust.
So really is it any wonder that B town really went to town, wishing their moms a very Happy Mother's Day? We, at Bollykings wish all the mothers a very happy Mothers' Day and hope that every son and daughter continues to get their mom's love for eternity.