Maqbool Fida Husain, India's best known artist; responsible for putting India on the world art map, died on 9 June 2011. Regardless of the multitudes of controversies surrounding M F Husain, there can be no doubt that the artist was revered by the art world, to say nothing of the Hindi Film Industry with which he had a long and close association.
It is well known that M F Husain started his career by painting film posters of Hindi films posters and at the time he got paid a few rupees for a hoarding of 6 x 12 feet so his association with the Mumbai film industry dates back a very long time. Though the first film that Husain made was Through the Eyes of a Painter way back in 1967 which won a Golden Bear award at the Berlin film festival, it was his later films made with his famous muses from the Hindi film industry that are more well known. From time to time, the artist was captivated by the persona and the beauty of film actresses who became inspirations for him
Madhuri Dixit – M F Husain Muse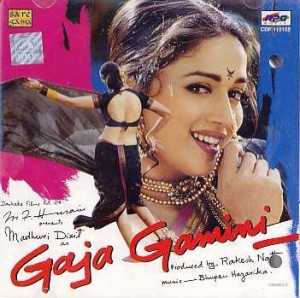 Madhuri Dixit was Husain's first publicly declared muse and was the subject matter of a series of paintings that he signed simply 'Fida'. In the year 2000 he made the film Gaja Gamini with Madhuri Dixit, which was a tribute to the actor herself and which portrayed the different manifestations of the female – as a poetic inspiration (as the muse of poet Kalidas) as Mona Lisa  and in many others forms. The film was about a woman who essays four different roles – first as a blind girl from Banaras in ancient times who inspires downtrodden women, next as Shakuntala who inspired Kalidas to write his epic poem, as Mona Lisa who inspires Leonardo da Vinci and finally as Monika, the new age woman.
Reportedly the artist had watched Hum Aapke Hain Kaun an incredible 67 times and Madhuri Dixit was flattered by the compliment paid to her by Husain's many works on her and his constant praise of her. She said about the artist, "I loved his young-at-heart attitude. We shared a very close relationship and I admired his work." The comedy film that Husain planned to make with Madhuri never materialized.
Tabu – M F Husain Muse
The talented and stunning Tabu was also a muse of the painter, with whom he made the film Meenaxi – A tale of Three Cities, which also starred Raghuvir Yadav and Kunal Kapoor. The film was semi autobiographical and told the story of a Hyderabadi novelist suffering from writer's block who finds inspiration in the mysterious Meenaxi who is dismissive about his work. The movie ran into heavy weather when Muslim groups protested against the lyrics of one of its songs as being blasphemous.
According to Tabu, working with the artist gave her a new perspective about the world and that she loved working with him. "Every frame of that film is like a portrait in itself. I saw life in a colourful manner through his eyes," she said about the artist.
M F Husain Muses – Amrita Rao and Anushka Sharma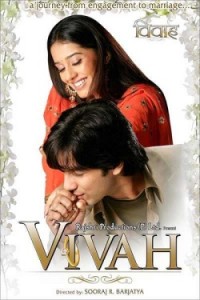 It was the 2006 Sooraj Barjatya film Vivah that caused Amrita Rao to catch the eye of M F Husain next. Husain decided to make a series of paintings inspired by the film as well as the actress who had tremendous potential according to him. Though immortalized in Husain's brushstrokes, he made no film with Rao, who according to him was the "ideal woman of today, someone who still has her Indian values intact."
Most Recently it was Anushka Sharma who M F Husain declared to be his next muse, admitted what a huge compliment this was, and who now regrets that she was unable to ever meet the painter. "I deeply regret his death and the fact that his last wish to be in India remains unfulfilled. I hope we are more tolerant towards our artists and don't make their work a political game,"  she was reported as having said.
A while back there were unconfirmed reports on the life of M F Husain being made into a film tentatively entitled The Making of the Painter with Shreyas Talpade being cast in the role of the young Husain, however the film has not seen light of day yet.
The association of the artist with the film industry, M F Husain's muses and his long standing connection with the film industry will mean that his passing will leave a void, not only in the art world but will also be missed by the industry.
(Quotes of M F Husain muses – courtesy Hindustan Times)