Vikramaditya Motwane directing Ranveer Singh and Sonakshi Sinha. I immediately think of a rustic yet charming Punjabi boy, a coy girl-next-door and an angry father with a heart of stone. However, my predictions took a serious hit when I saw the trailer of the film in question.
Lootera is nothing like it looks on paper. Ranveer Singh has thankfully ditched his "Band Baaja Baaraat" accent and antics! Sonakshi Sinha hasn't achieved much in the transformation department. But I swear I saw some of her acting muscles in play while watching the trailer. And I did not see a belligerent father, so we know that Vikramaditya Motwane's "Udaan" days are behind him.
All in all, Lootera seems to be a promising flick.
Yes, Lootera is going to be a classic Bollywood movie involving star-crossed lovers. Set in the 50's, it is a story of Varun (Ranveer) and Pakhi (Sonakshi) who are, you guessed it right, in love. Some unforeseen yet highly predictable force will probably pose as a threat to their love. And amidst song and dance sequences, they will struggle to fulfill their destiny as lovers.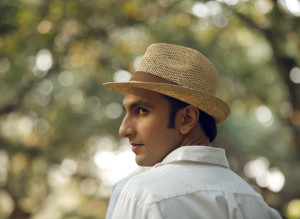 In spite of all the painfully predictive clichés, I have my money on Lootera.
You may ask why?
Well, I see Anurag Kashyap's Phantom Films along with Ekta Kapoor's Balaji Motion Pictures at the helm of the project. Vikramaditya Motwane has already showcased his ability to turn a simple story into a heart wrenching film. Remember Udaan? The many tears we shed along with Rohan and the pure hatred we felt towards his steel hearted father was a result of great acting extracted through masterful direction.
Amit Trivedi is handling the musical reins, and he has a habit of scoring hit albums like Ishaqzaade, English Vinglish and more recently, Kai Po Che. Plus, Sonakshi Sinha seems to have more than a few dialogues. If that is not ground breaking, then what is?
Watch the trailer of Lootera and let us know what you think: