With some really eye-catching stills visible in different media across the country, 'Kurbaan' brings together real life couple Saif Ali Khan and Kareena Kapoor once again on-screen. Will this movie create magic on the box office which other movies have failed to create so far, or will it too fade away like other movies in recent time?
Kurbaan – Synopsis
Kareena Kapoor plays the role of Avantika,  a teacher in a university who has just come back from New York. Soon she meets Ehsaan Khan, a temporary teacher in the same university and as the story continues, romance happens and love blossoms.  One day, Avantika receives a call from her university in New York, asking her to come back for the Fall Semester.  When Ehsaan hears this, he doesn't mind coming to the States with her, and get a job. But he wants to marry her first which they eventually do.
New York. They start out life in an Indian locality with conservative Muslim neighbours, Hamid and Anjum who invite them for dinner when they move in. The next morning, Salma, one of the women Avantika encountered the night earlier at the dinner, visits her under the pretense of gifting her sweets. When Avantika invites her in, Salma tells her that she is in serious danger. Nothing is what it appears. Salma pleads with Avantika to help her. What adopts next, is a series of incidents that sucks Avantika into a whirl of danger and intrigue. As her life whorls out of control, Avantika realizes that she is a pawn in a huge game. And no one is to be trusted. Not even her husband, Ehsaan.
The plot of Kurbaan does seem interesting. One can only hope that the film is as interesting. Kareena for one sure looks hot and sizzling in the few movie stills and promos of Kurbaan that have come up recently. In fact, Saif and Kareena both look equally good together.
'Kurbaan' was hard work. In fact, the Philadelphia schedule was plain hell. It gets dark there at 4 p.m. Moreover, it's so cold and at minus 10 degrees it can actually get really depressing. Since we were shooting in sync sound, it was extremely difficult to get the pitch and tone right while delivering our dialogues,' said Saif.
The actors had to wear layers of clothing to protect themselves from the Philadelphia cold but for continuity's sake, they also had to wear the same clothes in the summer of Mumbai, after the US shoot was over.
Kurbaan – Cast and Crew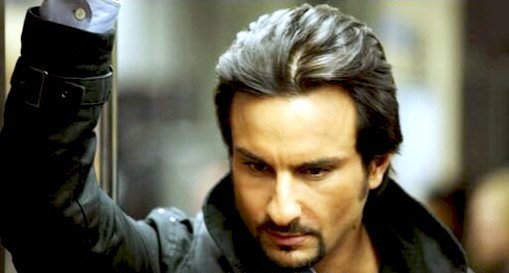 Banner – Dharma Productions, UTV Motion Pictures
Release Date – November 20, 2009
Genre – Thriller
Producer – Karan Johar, Hiroo Johar
Director – Rensil D'Silva
Lyrics – Niranjan Iyengar, Irfan Siddique
Music – Sulaiman Merchant, Salim Merchant
Dialogue – Anurag Kashyap, Niranjan Iyengar
Story / Writer – Karan Johar, Rensil D'Silva
Starring – Saif Ali Khan, Kareena Kapoor, Vivek Oberoi, Dia Mirza, Kirron Kher, Om Puri
'Kurbaan' has rendered a considerable buzz but it had its share of disputations also thanks to the secrecy about its title while it was being filmed and then Kareena's backless shot being used for the publicity posters of the movie.