Directed by Mani Shankar, the much anticipated movie of the year, "Knock Out" is a thriller narrating the good intentions of a sniper. Sanjay Dutt, the protagonist in the film is a sniper who wants the corrupt investment banker played by Irrfan Khan to admit his crimes. Though the plot of the movie is really interesting, it did not match up to the expectations.
The Plot
When it comes to the plot of Knock Out, there are various opinions on whether the movie is based on the famous Hollywood movie, 'Phone Booth'. Though some of the sequences and elements matched with the Hollywood venture, it is not a copy. Knock Out has its own identity. The film is mostly set in the phone booth, where Irrfan Khan goes to call and finalize a shady deal. However, a call from Sanjay Dutt traps him inside the booth making him realize his crimes. The film has a patriotic feel as Sanjay Dutt targets people who wrongly utilizes the wealth of the country for their own benefit.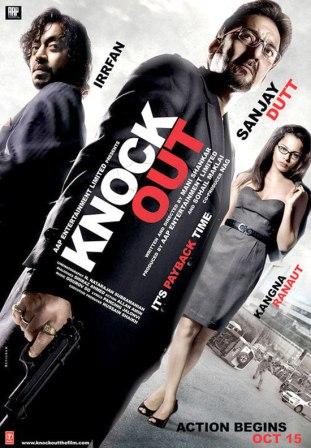 Critical Acclaim
Sanjay Dutt and Irrfan Khan's acting deserve special mention. Critics appreciated the agility in Sanjay Dutt's appearance. However, Filmfare critics consider the acting as well as the dialogues of the film to be the most "atrocious" elements of the film. Yet, the camera work of the film has received praises from the critics. Glamsham critics also found the plot to be less interesting, and state that the second half of the movie was a test of patience. As the film lacked a strong plot, it failed to make praiseworthy business overseas.
Audiences Verdict
Audiences have praised Sanjay Dutt's acting as well as appearance in the film. They also praised the theme that focuses on putting an end to corruption. However, the film did not attract much crowd, and the box office reviews were quite pale.