They say success begets arrogance. In some cases, it also begets failure. Or else how do you explain the falling from the pedestal of some of the biggest directors of our times. In 2009 we would have sworn by their names, but 2010 turned the tables – the outcome was definitely not in their favor. Sanjay Leela Bhansali, Ashutosh Gowarikar, Rakesh Roshan, Farah Khan and the might Mani Ratnam these are names that spelled immense audience interest as soon as they announced a movie, but 2010 saw the downfall of the mighty. Small movies and unknown directors made their mark and these gigantic personalities came to know the bitter taste of failure.  The most recent case is 7 Khoon Maaf disaster of Vishal Bharadwaj.
What did these directors do to deserve an entire article dedicated towards bashing them. For one, their magnum-opuses were results of their delusions to some extent. Don't get me wrong, I am not against experimenting and without doubt, a director being a creative person needs to follow his/her instincts to realize their visions or interpretations of the movie, but when the directors leave their audience behind, their films are likely to get into trouble. Unlike most other creative forms, movie making is one that, by its sheer expense-scale, medium, way of expression and volume of time and efforts of the several people involved, dictate that the viability of the product be kept in mind. Whatever happened to the good old "making movies for the audience"?
Dreadful Debacles of 2010
When Farah Khan with her impeccable record of choreography and directorial ventures announced Tees Maar Khan, everyone expected a laugh riot. What the audience got instead was an apology of a comedy.  Ashutosh Gowarikar's Khele Hum Jee Jaan Sey did not generate much initial interest and whosoever did turn up loyally to see the movie of one of the finest directors of contemporary Bollywood, was in for a disappointment. Similarly, Sanjay Leela Bhansali's movie, Guzaarish, which felt more like a canvas of colors and a heart rendering poem combined into a most unlikely media – celluloid, did not find many takers. Ravan was inarguably the worst Hindi movie made by Mani Ratnam, till date. In fact the others don't even come close. It's hard to tell what he intended while making the movie, but whatever it was, it definitely did not come out right. Rakesh Roshan's Kites was one of the most eagerly awaited movies of 2010, but who would have thought it would turn out to be such a damp squib? Made on a budget of 60 crores, Kites did not even recover its money in Box Office collections.  Vishal Bharadwaj is a director who could have done no wrong – but 7 Khoon Maaf changed the equation. His latest movie, which can be said to be average-at-best has put a black mark on his record which was spotless thus far.
Splitting hairs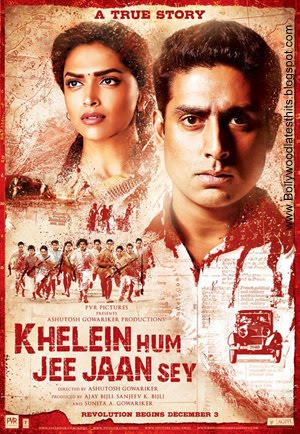 All these movies had the biggest stars and monumental budgets. What went wrong? One – the directors forgot the audience they are making the movie for. I loved Guzaarish, but I think nine out of ten Indians would not be able to suffer through the movie. Is Bhansali making movies for me – or for that matter a small minority? If yes, who gives them the right to squander millions of rupees for living their colorful dreams through celluloid? Did Farah Khan work on the script well enough? Did Ashutosh Gowarikar think his long-drawn documentary of a movie would be able to convince the Indian audience to shell out the money for the multiplex seats? Vishal Bharadwaj's brave attempt in 7 Khoon Maaf was met with lots of criticism. Obviously, he let his creativity overtake his own vision… or how else can you explain the glitches in the script, the tedious narration and telling of a story that was more foreign than desi.
After All….
Directors are artists, but they work in a medium which is meant for all. The audience includes the bored housewife and the hassled manager, the dreamy adolescent and the intellectual professor, the tired-to-hell auto driver and the snooty high society men and women. Whatever the audience be, at the end of the day everybody wants value for their time or money. When I buy that multiplex ticket, I expect to spend the 2-3 hours of my life feeling elated or sad or happy or intrigued. Whichever be the emotion invoked or whatever the genre of the movie be – the audience wants the movie to cater to their dreams not to the directors. Maybe the learned directors need to learn that… or maybe the wiser ones of them have learnt that already from their last mistakes.