Ekk Deewana Tha is a remake by Gautam Menon of his earlier Tamil masterpiece Vinnaithaandi Varuvaayaa(VTV), which he had remade in Telugu as Yeh Maaya Chesave (YMC). Prateik Babbar and Amy Jackson are playing the main characters in Ekk Deewana Tha.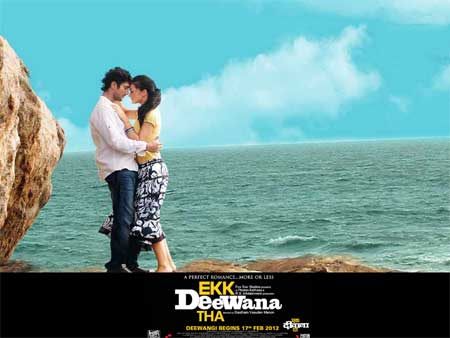 The music of VTV/YMC had been composed by A R Rahman and it had garnered widespread critical acclaim. Therefore, it was only natural that Rahman be commissioned to work on the Hindi remake as well. The lyrics of Ekk Deewana Tha have been penned down by none other than Javed Akhtar.
Ekk Deewana Tha has 12 tracks which have been sung by some really excellent singers:
Clinton Cerejo ('Kya Karoon' –Wake Up Sid)
Shreya Ghosal ('Chikni Chameli' – Agneepath)
Javed Ali ('Guzarish' – Ghajini)
Naresh Iyer ('Robaroo' – Rang De Basanti) and
Rahman himself amongst others.
Ekk Deewana Tha hits theatres 17 Febuary 2012.
Ekk Deewana Tha: Music Review
After you listen to the music composed by A R Rahman for Rockstar, it's quite hard believing he did it for Ekk Deewana Tha too. The music of Ekk Deewana Tha is okayish – nothing great, nothing bad. It's a pleasant to change to listen to new music every once in a while. Unfortunately, the entire soundtrack has also been, almost, copied from the original film.
Kya Hai Mohabbat is the only track in Ek Deewana Tha which is not there in VTV/YMC, so naturally its first on the list. Rahman himself sings this track, and does it well. Similarly, Javed Akhtar's lyrics are just ok. Rahman's recent solo numbers like 'Jaane Tu', 'Rehna Tu' and 'Meherbaan' have been quite surprising solid therefore a bland solo track such as this is unusual.
Dost Hai Hum To loses its essence in translation. The original song is a highly emotive track with anger filled in it while this one sounds completely different. Naresh Iyer has sang this and, I daresay, ARR has violated his music with ill-sounding rap and a mix of equally bad sound effects. This song is a complete train wreck.
Aaromale sounds more or less the same in Hindi and Alphonse Joseph does a good job singing the track in Hindi, clearly not his first language. An edgy track, it's a situational number which grows on you when you listen to it a few times. The violins and guitars, coupled with Akhtar's lyrics are in form this time round.
Hosana was available for official download on many websites for the promotion of Ekk Deewana Tha's music album. Leon D'Souza does a brilliant job of not letting one miss Vijay Prakash too much who sang the Tamil and Telugu versions. Suzanne D'Mello reprises the position behind the mic to deliver the heavenly crooning of 'Hosana' throughout the number.
The Original Hosana in VTV
This is the original song which was composed for the Tamil version.
The remake in Ekk Deewana Tha
And this is the song that has been remade into Hindi.
Phoolon Jaisi is a contemporary track with traditional South Indian arrangements. The track has been sung by Clinton Cerejo and Kalyani Menon and they do a decent job. Javed Akhtar's lyrics fail to entertain us and that makes this an average track.
Sharminda Hoon is featured during a major turning point in the film and thus it demands a higher lyrical quality. However, it is quite evident that Javed Akhtar saab had been forced to write along the lines of the original songs which greatly restricted his creative freedom. This comes across quite clearly when you listen to the song. Average, yet again!
Sunlo Zara is decent translation into Hindi. Rashid Ali and Shreya Ghosal, who replaced Chinmayi and Devan, have sung Akhtar's poetic lyrics effectively enough. The feel-good music makes Sunlo Zara a track worth listening to.
Javed Ali's Zohra-Jabeen is a raw and earthy number, in the same line as Aaromale. However, this time round the emotions are more subdued and soft as opposed to the angst/frustration in the Aaromale. Javed's effortless rendition amidst the acoustic guitars makes Zohra-Jabeen a fine number.
The album closes with various instrumentals that were featured in the VTV/YMC. Jessie's Land is a beautiful thematic piece,  followed by the aptly titled Jessie's Driving Me Crazy that has been done quite nicely by Sanjeev Thomas and Timmy. Broken Promises is a beautifully derivative of Aaromale while the violins in Moments in Kerala makes the track quite soothing.
In summary, members of the Hindi audiences who have already heard either YMC or VTV will be disappointed with EDT more often than not, while those that haven't may be able to appreciate the soundtrack on its own. However, its hard to see how the miss-match of music and lyrics in Sharmida Hoon, the bad rap in Dost Hai Hum To and the inarticulate lyrics in Phoolon Jaisi Hosana, would not be apparent to the objective listener.