In a way, the tagline is apt. The king really is back. And not because Don 2 is one of those tremendous, amazing, mind-blowing films that one cannot miss. It's just that… finally, SRK has not acted in a bad film.  A few of his last films, especially My Name Is Khan and RA.One (Pathetic!), have been really below the standards that are associated with the brand name 'SRK'. Therefore what I honestly think is that people are finally relieved to watch him act well, and actually deliver a film that's not boring, or pathetic, or senseless, or overdone, or any of those words that are supposed to signify negativity in the film world.
Don 2 Movie Review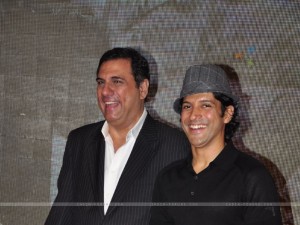 Don 2 starts with a brilliant action sequence that's not artificial, or "fake" – it made many people in the cinema gasp, including me. My point: it's really classy. The flow carries on and not at a single point does it seem that Don 2 is going to lose the plot, or it's going to derail itself. In fact, till the intermission, it's almost perfect.
When it really goes wrong is in the second half of the second half. When it seems like the movie is supposed to rest, and end, it seems to take on a totally different route. And that's wrong. Because you can't deny that even as an average viewer, you can feel when the movie is supposed to end. You can start feeling the frustration and the irritation when the plot stretches itself beyond a certain limit. And it's not that Don 2 becomes boring, it just becomes slightly irritating.
But that's ok. Shahrukh Khan films usually have an overdone second half.  They work sometimes, like it does in Don 2 but mostly, they go horribly wrong.
Performances in Don 2
 Hats off to two people: first, SRK himself.
Shahrukh, because he has given the avatar of Don a classy look. His style is brilliant, his dialogues are fuelled with the right amount of sarcasm and attitude. His walking style is slightly, um, slightly too much, but still nice to watch. His style of smoking and his choice of shades are both fitting. In short, Don mast hai bhai.
The second actor who's performance is worthy of applause is Boman Irani. I loved his acting. The guy is a powerhouse of talent!
Priyanka has done well too, though she's performed better in other films. Although I hate to say this considering I am talking about an industry veteran, but Om Puri has acted way below his skills. Only a few will disagree.
Direction
The direction, well, Farhan knows his job. Again, I'm slightly critical about the flow in the latter half of the movie after the interval, but let's look beyond that. A special mention to the script writers because Don's one-liners are superbly funny and classy.
Music
Composed by Shankar Ehsaan and Loy, I didn't dig the music of Don 2 as much as I dug those of Don. Zara Dil Ko Thaam Lo is one of the decent tracks.
So, as always, the final verdict. Should you go for Don 2? Yes, you totally should!
Watch it for Don's impeccable style, watch it for SRK's much needed comeback. Watch it for Farhan Akhtar. Watch it for the sexy Priyanka Chopra. Watch it for Irani's performance. Watch it because it's Don, the closest Bollywood has gotten to Hollywood-style action films (don't criticize me for comparing! We can't deny Hollywood is a class apart).
I'd give it a 6½  out of 10, only because the second half feels too long. Otherwise, if you're ready to ignore that, I'd give it a solid 7½.
An Observation
Did you notice that when compared to RA.One, SRK hardly did any real promotion for Don 2? It's possibly a sign of his smartness. Perhaps, just perhaps, he knew what a piece of crap RA.One was. Perhaps, that's why he knew how hard he needed to work in order to get his money back! On the other hand, he was pretty confident that Don 2 would carry itself forward on its own… and thus, there were no real headline material regarding SRK breaking the ground to promote his hot avatar!