Yesterday, December 4th, when we heard that Dev Anand Saab had passed away, we felt a surprising sense of loss. Somehow you felt that an era had just ended, an era which was symbolised by his dashing persona, his trademark puff and an ability to look elegant and suave, no matter which role he was playing. This is our tribute to the eternal enigma known as Dev Anand.
Evergreen is a word which is used for every other star that is growing older, yet remaining a part of the film fraternity. But in actual fact  there really is and truly has been only one evergreen star in Bollywood – Dev Anand. He died at the age of  88, yet our memories of him will be immortalized as the star of Guide and Hum Dono, not of the oldish gentleman giving interviews on TV, charming us with his slightly crooked smile and his ability to still look at the future with energy and optimism.
Born as Dharamdev Pishorimal Anand, Dev saab was one of Bollywood's most enduring and romantic superstars who starred opposite a whole bunch of nubile young girls till his gracefully retired from his acting career.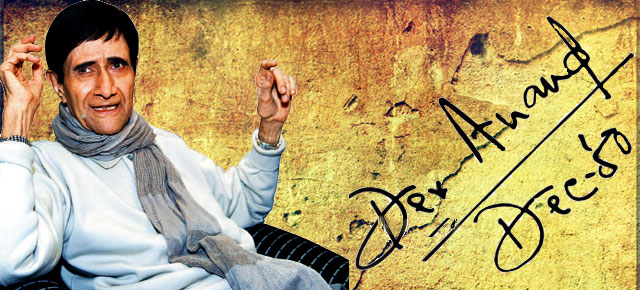 Tributes to Dev Anand:
Anupam Kher: "Dev Saab was Kind, Passionate, Courageous, Forthright, Charming, Encouraging, Contemporary, Always a leader and a Great Human. Will Miss him. So as a Tribute to Dev Saab let's only humm his Songs today. Songs which became such an integral part of our lives. Ahbi na jao chodkar…."
Shabana Azmi: "Dev Saheb robustly lived life on his own terms.he will be missed by millions but will live on thru his movies. I salute his spirit."
Amitabh Bachchan: "He was such a positive person .. never associated death with him… Had just met Dev Saheb at his premiere recently .. he was weak but full of spirit ..the news papers confirming his passing away ..sad. An era has come to an end .. Dev Anand leaves a void never perhaps to be filled again .. his never give up belief, his joy of life!"
Shah Rukh Khan: "Dev Sahib's sad demise makes me feel that the film industry is incomplete & has lost its magical energy. May Allah bless his soul."
Karan Johar: "The industry just lost its sheen…the films just lost its charm…Dev Anand epitomised all things celluloid give us."
Some Hit Songs of Dev Anand
Yeh Dil Na Hota Bechara – Dev Anand and Tanuja (Kajol's mom) in Guide
Ruk Jana O Jana – Dev Anand and Zeenat Aman in Warrant
Aise Na Mujhe Tum Dekho – Dev Anand and Zeenat Aman in Darling Darling
Memorable Quotes From Dev Anand:
My life is the same, and I am at a beautiful stage at 88," he reportedly said in the interview quoted by the AP. "I am as excited as I was in my 20s. I have so many things to do,"
Gregory Peck was Gregory Peck. At this stage I would rather be Dev Anand.
"I never give myself a chance to get depressed. I think ahead."
His Films:
There are so many films which have carried the stamp of the Dev Saab's talents and his charisma. Hum Dono was a classic double role essayed with consummate finesse by him. Jewel Thief was one of India's best crime thrillers. In Tere Mere Sapne and Herra Panna he was the eternal romantic. In Johnny Mera Naamhe was the suave crook and policeman. Munimji showed us the comedian within him. Guide – a film which in my opinion was one of the finest films ever made, was his showpiece all the way.
He gave us what many believe was his finest performance, where he gave us a gamut of emotions ranging from the suave guide to the mysterious sadhu escaping from the turmoil's of his life. Can we even imagine anyone else playing this role to such a great degree of perfection?
Dev Anand began life in the movie industry with Hum Ek Hain in 1946 and his first big hit was Ziddi with Kamini Kaushal in 1948. Many more followed – such as CID , Paying Guest, Baazi and Teen Deviyan – where he romanced three beautiful women with elan and style.
Dev Anand : The Director and the musician:
Dev Saab believed in the magic of life. He did not like to make deep and dark films, and his fascination for all that is around him can be seen in all his films. His superb timing and directorial skills are evident in films such as Hare Rama Hare Krishna, where he launched the stylish Zeenat Aman as his sister. He directed many other films after Des Pardes but none of them made too much of a dent in the box office. Under the Navketan banner with his brother Chetan Anand and Vijay Anand we saw some of the most memorable films of the 60s and 70s such as Jewel Thief, Johnny Mera Naam, and Tere Mere Sapne.
The music from Dev Anand's films always had a special quality within them.  He took a great deal of care when he shot for the songs, making sure that the meanings behind the words were never lost. Remember "Tu Kahan Yeh Bata is nasheeli raat mein" from Tere Ghar Ke Samne or  "Mein zindagi ka saath nibhate chala gaya" from Hum Dono. Memories are made of songs such as these.
Dev Anand's unique approach towards life:
He had always praised his fellow co-stars and stood by them whenever they were criticised. No matter how high he was in the box office charts he always had a good word for all the other films and actors. He has launched many a great actress in his films, and stars such as Zeenat Aman and Mumtaz have described him as a "gem of a person". Even in his latest interviews he spoke about how he would not offer advice to the youngsters since they knew much more than him. He exuded positivity and energy and all you could do was to sit back and smile at his enthusiasm and his zest for all that is new and inno0vative.
Dev Anand represented all that is good in our lives – happiness and joy, talent and creativity and an ability to bring elation and joyfulness in the lives of all those around him. May his soul rest in peace.
More on Dev Anand in other websites:
Do share your memories of Dev Saab's films in the comments below!