The Hindi movie viewer is spoilt for choice this weekend, and another Bollywood offering this last weekend of April, is Shor in the City. Mumbai the city, with its contradictions and complexities has been the leitmotif for a number of recent Bollywood films, such as Dhobi Ghat (which incidentally is Mumbai Diaries in the original English version)  and Once Upon a Time in Mumbaai. Here the city itself has featured almost as another character in the film rather than the mere backdrop of a story. Shor in the City is another look at the city of dreams; or grime and of crime, that wields such an irresistible fascination for filmmakers and the aam junta alike.
With the film viewing public becoming more open to genuinely 'hat ke' cinema, movie makers are daring to move away from the done to death formulas, and experimenting with new and exciting stories, lowering their reliance on 'stars' to work with 'actors' and overall giving us a richer feast of cinema viewing in recent times.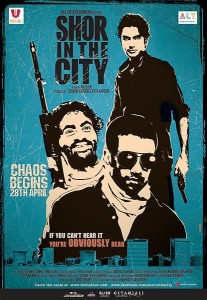 Shor in the City is another example of the brave new breed of cinema, and deals with three different stories that run side by side against the backdrop of Mumbai during its eleven-day Ganpati festival; one of the hallmarks of the city. It is an entertaining look at the Bhai culture of Mumbai's small time crooks, which is dark but not depressing, and which touches on crime and feelings of being an outsider in Mumbai and the yearnings that people who come to the city seem to invariably bring along.
Abhay (played by Sendhil Ramamurthy; remember the dishy Raj in Gurinder Chaddha's It's a wonderful Afterlife?) finds that Mumbai can be unwelcoming, Tilak (Tusshar Kapoor) Ramesh (Nikhil Dwivedi) and Mandook (Pitobash) are small time criminals who stumble upon loot in a local train, and Sawan (Sundeep Kishan) has the ambition to get into the Mumbai Junior Cricket team. The three disparate stories run on their own tracks until they come together in the end to create a fiery climax in the end. The hoods are natural and believable; their Mumbaiya boli very accurate and non-exaggerated.
The music by Sachin-Jigar and Harpeet is edgy and modern but at the same time very much rooted in its Indianness. The track Ghoom Ghoom in particular is rocking and rousingly enjoyable (it forms the background score for the trailer below).
The acting by the ensemble cast, screenplay (Raj Nidimoru, Krishna DK, Sita Menon) , and direction (Raj Nidimoru, Krishna DK,) of this film produced by Ekta Kapoor and Shobha Kapoor has been hailed in one voice by the critics.
Times of India gives Shor in the City 4 stars and calls this a "black comedy that has heart and soul." DNA's review of the film is also positive about the fun and upbeat film; Aniruddha Guha calls it an absolute treat. Rajeev Masand of CNN IBN is surprised by how much he enjoyed Shor in the City, and calls the film a "delicious mix of quirky humor, gruesome violence, and surprising sensitivity."
Films such as these reinstate my faith in Bollywood and in Hindi films in general; that a non formulaic brave new breed of cinema such as this is made as well as the tired, unoriginal and sophomoric Thank Yous and Welcomes of recent times. The departure from the usual masala / melodrama Hindi film, is fresh and enjoyable and also very importantly, not a rip off of a Hollywood film or even perhaps an Iranian or Indonesian film (because they think that detection of their plagiarism and hence criticism is less likely one wonders?). Lets to the movies, people!
Image courtesy Wikipedia
Trailer of Shor in the City