Even on the face of it, Chalo Dilli has a lot going for it – this weekend's much awaited Bollywood release was much in the news for several reasons – tennis ace Mahesh Bhupati company Big Daddy Productions is the co-producer of the film and his brand new wife Lara Dutta is the female lead who forms a rather incongruous pair with funny man Vinay Pathak. And just for extra fun, there is Yana Gupta who makes a special appearance in the song Laila o Laila (remember Zeenat Aman in Qurbani?) and Akshay Kumar doing a small cameo as well.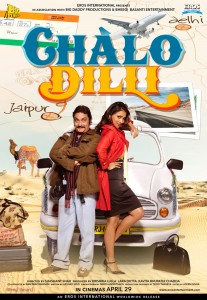 The story of Chalo Dilli, Bollywood's latest road movie goes something like this – Mihika played by Lara Dutta is the quintessential city slicker, an investment banker who has to travel from Mumbai to Delhi but misses her flight. Since she has to get there any which way, she has to do the unthinkable and travel on a budget airline which gets stranded at Jaipur.
And there she comes across Manu – kaun si badi baat ho gai ji – Gupta (Vinay Pathak) the dress material seller from, where else, Karol Bagh in Delhi! The antithesis of the refined Mihika, Gupta is crude, loud and fancies himself as being really street smart which ultimately spells trouble for the duo.
The unlikely due travel by road and by rail, (shades of that hugely enjoyable old Hollywood film Planes Trains and Automobiles perhaps) through the Indian hinter land, and through rural landscapes and urban as well. Whereas committed career woman Mihika wrinkles her nose in disgust at all things desi and unsanitary, Gupta spits and belches his gregarious through the adventure. While he is ready to strike up conversations with complete strangers, she the finicky control freak is too snooty to do so.
The film inevitably meanders towards some bonding between the unlikely co-travelers, and the other characters who carry the film along making this an interesting and watchable ride. The lead pair are well cast and spontaneous and they carry the film with élan, even if accusations of borrowing from other Bollywood movies such as Jab we Met and other Hollywood flicks may seem valid.
Nikhat Kazmi of Times of India has given the film three and a half stars, says the film has soul and a narrative that is sweet and simple. The viewing public also, has largely given this film a thumbs up. So for some enjoyable, lighthearted fun, if not a wholly original story, chalo, lets watch Chalo Dilli.