For those who live in a world of nostalgia, there has been no greater male singer in Bollywood than Mohd. Rafi. There are some others who will take up cudgels on behalf of Kishore Kumar, since for many years after he ruled the musical waves of Mumbai. Today however there is a new crop of singers and they are making sure that they leave their imprints in this industry, and many years down the line people are sure to talk about them as legends in their own right.
Sonu Nigam:
It is undeniable that he is the most talented singer in Bollywood today.  He is able to sing songs of all genres and he is superb in songs with a semi-classical base. His classical training was under the tutelage of Ustad Ghulam Mustafa Khan. The music from the film Dharm may not have become very popular but personally I think this is one of his best renditions.
Sonu Nigam is the son of Agam Kumar, a renowned singer and he accompanied him during most of his concerts. At the age of three he sang for the first time at one of his concerts and it was evident that here was a great talent. His first break came in 1990, and for many years he was considered to be a Mohd. Rafi clone.
As the host of the TV show Sa Re Ga Ma, his true versatility came into the forefront. He conducted the show with elan and confidence and often managed to overshadow all his guests. His first big hit was 'Sandese Aate Hain' from Border in the year 1997, and from then onwards there was no looking back.
The versatility of a singer lies in his ability to modulate his voice to suit not only the words of the song, but also actor who is going to do the lip-syncing on the screen. Think of songs such as 'Piyu Bole' from Parineeta and 'You are my Soniya ' from Kabhie Khushi Kabhie Gham and you will realize why superlatives are needed to describe his talent.
Shaan: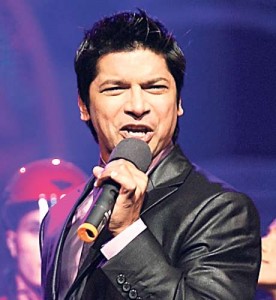 Shaan replaced Sonu Nigam in the show Sa Re Ga Ma Pa and he is today among the top male singers of Bollywood. Shaan also comes from a musical lineage, his grandfather Jahar Mukherjee was a lyricist and his father was a music director.
His path towards his present pre-eminent position was however unique. He began by singing ad lyrics, which gave him income but retained his anonymity. His early successes were in the pop music world since he and his sister Sagarika gave us many popular pop and remix albums.
As a Bollywood playback singer he has sung for almost all the top stars in Bollywood. He is in great demand not only for his versatility, but also for the lilt in his voice and the joy that he brings to light and catchy numbers. He is a great TV host, his good looks and humility being even greater assets than his inherent talent.
Shaan's long list of awards is proof of the fact that all his flair and genius are incomparable.
KK:
The song 'Tadap Tadap' from Sanjay Leela Bhansali's Hun Dil De Chuke Sanam catapulted Kay Kay or KK as he is normally known into fame. Even though he had been singing jingles for over four years by now, it was this song which gave us a glimpse into a soulful voice which made this song sound so poignant. Since then he has sung over 500 songs in Hindi and 200 songs in other languages.
KK's forte lies in singing songs which are emotional and romantic. Somehow he transposes you into a world of sorrow and of unrequited love with just a few words. 'Guzaarish Hai Yeh Jo Baarish' from the film Guzaarish is one of the best examples of this depth and versatility. 'Dus Bahane' from Dus is an example of his lighter songs and of his control over rhythm and beat.
Sukhwinder:
'Chaiyya Chaiyya' from Mani Ratnam's Dil Se was Sukhwinder's first brush with fame, but it is 'Jai Ho' from Slumdog Millionaire that gave him the iconic status that he has achieved now.  Today he is considered to be the best singer for Shahrukh Khan's songs, such as 'Haule Haule ' from Rab Ne Bana Di Jodi, and 'Marjaani ' from Billu.  With A R Rahman as his mentor he has been his first choice for many great songs.
Sukhwinder has the voice of a Punjabi folk singer, which is not surprising since he was born in Amritsar in Punjab. There is a robustness and full-bodied quality to it, and almost all his big hits have been songs with immense rhythm and cadence in them.
He is also a music director and has composed music for films such as Biwi No. I and Astitva.
Rahat Fateh Ali Khan:
Nusrat Fateh Ali Khan's nephew may not have the mesmerising qualities of his uncle's voice but after many years of diligence he is beginning to make a name for himself, not only in Pakistan but also in the Bollywood music circles. He is another singer who comes from a long line of talented musicians, and he was fortunate enough to be trained by his amazing uncle in the art of qawwali singing. Today he is one of the best known proponents of devotional sufi music and also qawwalis.
Today he has traversed through continents to become one of the most popular singers around. He has sung for Pakistani films and TV serials, for Bollywood films and also occasionally sung for Hollywood productions. In Bollywood his latest song for the film Dabangg ' Tere Mast Mart Do Nain' was on the bestseller charts for many months.
There are many other who could have been part of this list. Singers like Udit Narayan and Atif Islam are among that group. They are both talented and have the capacity to be among the top five with any new song of theirs. Among the others who are knocking at the door, waiting to be added to this elite groups are singers such as Mohit Chauhan, Himesh Reshmayyia , Mika and Shafqat Amanat Ali. A few years from now the equation may change, but from our perception these five guys are on top of the list, presently.