The women who earlier played negative roles as Bollywood vamps in older Hindi films were all of a certain type and mold. They seemed to have been cast in the same shape and form and it was easy to detect them and differentiate them from the good and virtuous heroine. Now, however the lines are not so clearly drawn. There are shades of negativity in the "good " characters and most good actors have played the role of a "villain" with ease and consummate skill. Thus, today when we look for great performances by actresses as Bollywood vamps. There are many where a top-rate heroine has played a negative role only, as a change from her normal routine.
Some Popular Bollywood Vamps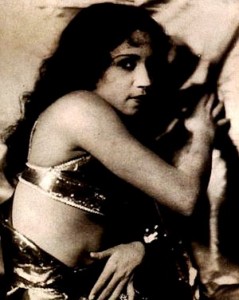 There are no actors who can match the veteran Lalita Pawar in playing the role of an evil mother-in-law or matriarch of a family. Even her face looked evil – and she could put menace and malice in her voice like no one else. Films such as Anari and Mr.& Mrs. 55 were among her memorable performances and in Ramanand Sagar's Ramayana, she was just the right choice for the role of Manthara. She began life as an actress of silent films, but today we remember her more for her negative roles, than anything else.
Oomph and grace, seductive and sensuous, these are words which have been used to describe Helen again and again. She was a worthy successor to the amazing Nadira, and during the 50s and 60s decades there was no one who could match her acting as a vamp and her fabulous dancing. In Howrah Bridge and in Teesri Manzil she was a dancer and the evil one and in many ways she overshadowed the heroines of the films. Bindu was also moving along the same lines, but she did not achieve the same degree of success as Helen. Shashikala was also one of the great vamps of Bollywood in over 50 Hindi films. Innocent looks, a smile to die for, yet she chose to make her mark as a negative roles queen.
Bollywood Vamps in Modern Indian Cinema
There are many contemporary actresses who have played the roles of villains in an occasional film and managed to hold our attention and make their mark in the celluloid world. One of the most outstanding examples is of Priyanka Chopra in the film Aitraaz. She tries to seduce Akshay Khanna and when she is unsuccessful she tries to ruin his career. Beautifully evil, Priyanka shines as a calculating scheming young woman.
Another fabulous example of an evil Bollywood vamp is Kajol's character in the film Gupt. It's a thriller film and Kajol plays the role of a murderer with elan and proficiency. There is a depth to her performance and you realize that here is a new facet to her talent. She became the first actress to win an award for the best villain in a Bollywood film.
We could go on for many more words with such other paradigms of top level actresses proving that negative roles were not beyond their range. Bipasha Basu in Corporate, Kareena Kapoor in Fida, Aishwarya Rai Bachchan in Dhoom 2 and Mallika Sherawat in Murder were all tremendous actresses in remarkable roles. The movie audience accepted this reversal of roles easily and with applause.
Actresses have a major advantage over the actors when they essay a negative role. They can easily portray seductiveness and oomph and cover the evil and menace within them with layers of grace and feminity. They smile and they cajole, they sing and they dance and they mesmerize you with their beauty even though you know that they are not "good" human beings.
With the trends changing as time goes on and with the lines between negative and positive getting blurred, very soon we are going to have no villains or vamps on the lines of Lalita Pawar and Helen. As in the popular film Race, everyone will be a hero or heroine and everyone will be a villain, and soon you will stop looking for a clearly delineated criminal or scoundrel in the film.
Whether they be Bollywood Vamps or heroines, villains or Miss Goody-two-shoes, the charisma and allure of women will never fade and they will lure us and enchant us and also make us rue the fact that they can look so good and be so evil.
Further Reading :