The forays that Bollywood actors have made into politics have been frequent but not always hugely successful; which raises the question – do Bollywood and Politics really mesh? Are Bollywood stars cut out for politics and if not, why so?
Recently Saif Ali Khan made a statement to the effect that he was not interested in politics – "I am not a politician by nature. I am very happy and comfortable being in tinsel town. I used to read some political news but now I have no interest," he was quoted as having said. However Bollywood and politics have had a long history and many cine actors have made the crossover from films to politics as a natural progression and a way to carry their star power over from one to another arena; some with more success than others.
Actor-Politicians from the South
Actors from the South of the country have made very successful transitions from films to politics – witness the tremendous success of N T Ramarao, M Karunanidhi, M G R (M G Ramachandran), Jayalalitha and more recently and perhaps to a lesser extent, Chiranjeevi and Rajnikanth. And this is not an Indian phenomenon either – Ronald Reagan became the president of the United States after a successful film career and Arnold Schwarzenegger became the governor of California.
Bollywood and Politics
One of the best known forays of Bollywood into politics was that of Amitabh Bachchan – after three years in politics he swore off the 'cesspool' that he claimed politics was, after having burnt his fingers rather badly with the Bofors scandal. His wife Jaya Bachchan however continues the Bollywood and Politics connection of the family.  Not only is she elected as a Samajwadi Party Member of Parliament, representing Rajya Sabha, the family continue to have very close personal ties with Mulayam Singh Yadav and Amar Singh.
Among the more successful of the Bollywood and politics connections would have to be Sunil Dutt, who was active in politics from 1982 up to his death in 2005 and Shabana Azmi who has also had a long innings in politics. Others such as Jayaprada, Raj Babbar, Vinod Khanna, Rajesh Khanna, Dharmendra, Hema Malini, Shatrughan Sinha and Govinda have also made their respective forays into politics while still maintaining their Bollywood connect, with varying degrees of success.
Are actors cut out for politics?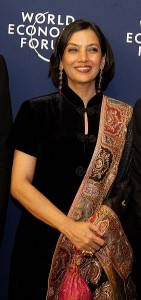 So what is it with Bollywood and politics? What is it about politics that exerts such an attraction over film folk? An obvious reason could be that having grown used to the arc lights of stardom, it can be difficult to get used to the relative oblivion that can come with time. Advancing years may mean fewer roles and lesser public recognition and adulation. Politics could perhaps present a viable way for fading stars to continue their connection with the public at large and to remain in the public domain, albeit in a different capacity.
Often the Bollywood and politics connection starts not due to the actor's own volition but at the behest of others. The brand recall of a star and the public loyalty that it commands can be a valuable asset for a political party, and can effectively be used to garner publicity and mass support. So it is common for political parties to approach film stars, even fading ones, to canvass for them, to support a cause championed for them and so on.
The fact is that politics can be lucrative and can also be a way for an actor to continue to wield some power in life as well as over the public consciousness. Actor turned politicians can often make a very meaningful contribution by using their star status for worthy causes if they choose to do so. Also the fact that established actors may already be of financially sound means may make them less interested in filling their own coffers and working instead for the public good.
However a good actor or even a successful actor does not always translate into a good politician, which many Hindi movie actors have found at their own peril. Emoting before a camera is a whole different story from working in the political arena, many who have straddled Bollywood and politics have found – there is more public accountability there is media criticism and backlash from voters to contend with.
When all is said and done, politics may not be the cakewalk that many actors may think it to be. This perhaps explains why even after joining politics, actors continue to be associated with the film industry either by continuing to act or be involved in some other process of film making, continuing their Bollywood and politics tie-up – is it a backup plan or a safety net? One does wonder.