When Priyanka Chopra went from nubile young thing to a mature older woman of 65 in Saat Khoon Maaf this was not unusual.  Ho hum, she just did what about 50% of young actresses of Hindi soaps do – play grannies when they are barely out of their teens but this did get me thinking about Bollywood and plastic surgery. It isn't something that all of them will admit to; but more Bollywood leading ladies have gone under the knife than you would think.
The first time I ever heard about liposuction was in school when Sridevi's ample behind emerged svelte and distinctly less ample in Chandni when compared with previous Jeetendra pairings in Tohfa and such classics.  This was the first instance of my hearing about Bollywood and plastic surgery.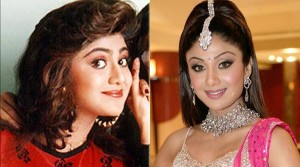 Perhaps the worst kept secret of a nose job would be Shilpa Shetty – witness her transformation from the gauche girl with the big hair and the bad nose (from the times of Baazigar and Main Khiladi tu Anadi) to her later films. Her rhinoplasty transformed her in more ways than one; seemed to inculcate a sense of glamour and a dress sense infinitely better than before; to say nothing of sleeker hair.
Also among the other really well known stories of Bollywood and plastic surgery if that of Koena Mitra – this one is the tale of the rhinoplasty gone very, very wrong! Her unhappy experience at the hands of her plastic surgeon (s?) is one tom-tommed all over tinsel town!
The fact that Sushmita Sen got herself some extra mammaries by way of implants soon after winning her Miss Universe title is well known and easily discernible when you compare the before and after cleavages.
It is alleged that various others have gone under the knife:
Sridevi's very hush hush nose job which is however rather evident when you compare her current sharper nose with her earlier snout
Think Karisma Kapoor in her debut film Prem Qaidi and her much altered cheekbones in later films, and you get the idea
Kareena Kapoor is alleged to have gone under the knife to correct her jaw line. And there was talk of hitherto chubbier cheeks becoming leaner too? Or is that yoga as well?
Kangana Ranaut has categorically denied plastic surgery, and has attributed her face's fuller look to putting on weight and changing her diet. And yet the nose looks different and the lips are now a permanent pout… can a high protein diet accomplish that one wonders?
When Prinyanka Chopra was new in Hindi films, she had the sort of nose that made me wonder how she ever won her Miss World title. Her nose is much improved these days of course.
Remember the slightly chubby but fresh faced wholesomeness of the young Preity Zinta as a new Bollywood entrant? One wonders if the newly lean face can be attributed to nature or scalpel?
Juhi Chawla got a nose job as well; a disappointing "corkscrew job" by her own admission, a rare case of Bollywood admitting to plastic surgery
Shruti Hasan evidently didn't think her impeccable pedigree gave her and pretty enough face; she admitted to having had cosmetic surgery recently as evidenced by her distinctly sharper features.
It is alleged that Missha Lamba had a nose job as well. Really? For all the difference it made to her face and her on screen success, I don't think she should pay that plastic surgeon if she did.
To see some really interesting before and after plastic surgery shots you may want to take a look here(the photo is this post is courtesy of that write up). It is true that there is a lot of pressure on female stars to be young and beautiful (then men of course don't seem to be under the same pressure and proceed to play men half their age with complete impunity). This probably accounts for the trend of plastic surgery in Bollywood.
At the appearance of that first line or age spot, the first hint of aging, women start getting offered older sister, bhabhi and mother roles so is it any wonder that Bollywood and plastic surgery or rather Bollywood stars and plastic surgeons are such good pals?