BBB is a warm and funny romantic film. Though it is certainly not of the earth shattering variety, it is a basically a good enjoyable film.  There are many good moments in the film, mainly due to a fresh and lively script.
The Main Characters:
The characters of our Delhi based lead pair are well etched and the actors fit the bill. Anushka Sharma looks gorgeous and looks at ease in her role – she finally seems to have delivered a movie which will bring her recognition, and in all probability, many more good roles. Ranveer Singh as Bittoo Sharma, may not look as cool and clean-cut as our average college-boy character in the movies, but his physicality and mannerisms suit the role. All in all, they are the surprise package of the movie.
The Basic Story:
Shruti, the character played by Anushka, is a middle class Delhi college girl who is determined to work and do something worthwhile before she gets married. Bittoo Sharma is the directionless student who wants to work only because he wants to continue living in Delhi.  Quite the opposites, our lead couple pair up as unlikely business partners and set up shop as wedding planners. Planning weddings and making sure that they don't mix emotions with business Shruti works hard and well. Predictably, somewhere along the way she falls for our guy. Several awkward conversations (or their avoidance) and some intimate scenes are what make them  realize what it all means. The Big Fat Delhi Wedding with all it's accompanying glitz and glimmer and vast display of wealth form the backdrop of this film.
Music:
Music of Saleim Suleiman is passable and the only song which has  become popular is the 'Ainvayi Ainvayi' dance number with the Punjabi beats. 'Tarkeebein' is also catching on slowly. The rest of the album can only be termed mediocre, at best.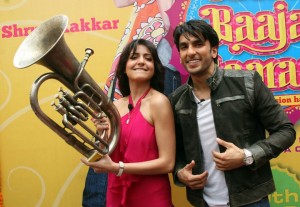 Direction and Acting:
The movie's script is tight and the movie moves smoothly during the first half. The second part tends to drag with unnecessary songs and dances. Director Maneesh Sharma has done an excellent job and passes with flying colors. As a debutant director, he has proved his mettle and has made the movie work in spite of the fact that the lead pair wasn't too well known. Anushka, who seems to have come into her own, and Ranveer Singh who has proven to be more of an actor than was expected of him, make the movie work. A new-age romance, even with all its flaws is immensely watchable. With practically no competition at the box office (No-Entry had already slowed down) during the first three weeks of it's release, it should easily recover its money and rake in some profits. One of the cutest and freshest movies to come out of the YRF factory in a long time – no big cast with elaborate drama scenes and foreign locales – this one works due it's sheer honesty and earnestness.
Good Timepass!!!