'Anjaana Anjaani' is a romantic Hindi movie. Directed and produced in Bollywood. Period. This directly implies the following:
1.       It will have a 'hero' and a 'heroine'.
2.       It will have at least five long songs, and three remixes.
3.       It will be shot in locations outside of India.
4.       It will feature some heavily emotional scenes.
[ad#post-large]
These are cliques with which Bollywood movies have been continuously criticized for. That is, if it's not for other typical elements or intelligence abusing story lines in general. People want intelligent cinema. If a director decides to direct a movie which has two main characters hobbling around in the entire movie, it is sort of a big risk. Add to this the fact these two characters are not related in anyway and one starts to wonder what the hell is happening.
Anjaana Anjaani happens to be the story of two complete strangers who by coincidence meet on a bridge, wanting to commit suicide.
I must mention though, Anjaana Anjaani is not a copy (or adaptation/remake) of Patrice Leconte's 1999 French film 'La Fille Sur Le Pont/Girl On The Bridge', which starred Daniel Auteuil and Vanessa Paradis. Some say that Anjaana Anjaani bears a remarkable semblance to the Telugu film ITLU SRAVANI SUBRAMANYAM [2001]. Surprising as it is, the only thread connecting these movies is that two strangers meet on a bridge to commit suicide, that's it! After that, Anjaana Anjaani is as diverse from these films as you, me and Gandhi.
Anjaana Anjaani Movie Review
With Anjaana Anjaani, director Siddharth Anand takes on brave task. He has tried to make a love story, that strays from the norm, and takes the path less trodden. It breaks the rules laid out by the romantics in Bollywood. Actually, the exact converse happens. As is the convention, couples in love tend to die for each other, wheres in Anjaana Anjaani, romance flourishes much, much after the two meet at the bridge for the first time, when they are about to commit suicide. In one line, the film traces their relationship from strangers to lovers to strangers again.
[ad#post-large]
Why 'Anjaana Anjaani' works
Three reasons.
One, it's got the charming Ranbir Kapoor; two, it has the super hot Priyanka Chopra. And they have delivered really powerful performances in this Bollywood movie. Three, Anjaana Anjaani has some heart wrenching moments in the second part of the movie.
Synopsis
Anjaana Anjaani is the story of Kiara (Priyanka Chopra), who is based San Francisco, and Akash (Ranbir Kapoor), the New York City boy. Akash has had a failed business, while Kiara has had a failed relationship. Fed up, they both decide to commit suicide by jumping off a bridge. However, both land up on the same bridge at the same time.
One thing leads to another and Akash and Kiara decide to end their lives on 31st December. With 20 days to go, they decide to fulfil their unfulfilled desires which form the basis of the story.
Performances
Director Siddharth Anand has created fine characters by treating the script unusually. Out of ordinary people and situations, he has tried to create entertaining scenes. However, the story writer Mamta Anand and screenplay writers Advaita Kala and Siddharth Anand have reserved the best for the latter part of the movie, when the story moves from New York to Las Vegas to San Francisco. The road trip and the varied experiences and emotions they share make it a compelling watch.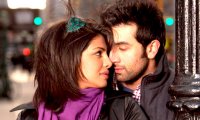 Ranbir & Priyanka
Ranbir Kapoor has matured as an actor with an unbounded range and his dedication to his work is evident in every film. I have often stated that he is the finest actor of his generation and the fact comes alive yet again as you watch him donning a new character in Anjaana Anjaani. As for Priyanka, she sinks into her role so delightfully, it makes you smile. Zayed Khan is pleasant in a cameo. Tanvi Azmi is wonderful.
Of course, the story tends to get a bit predictable towards the end, but come on, don't we like our love stories to have happy endings?
Anjaana Anjaani Music Album
Vishal-Shekhar's music has a lot of heart and soul in it. In fact, it is their excellent music which takes the movie forward. The background score (Salim-Sulaiman) is top notch and compliments the mood of the characters wonderfully.
You can download [intlink id="1649″ type="post"]Anjaani Anjaani Music Album[/intlink] by visiting the link.
Final word?
Worth a watch. If you spend all day in office, or in your coaching center, or at home, then Anjaana Anjaani will definitely pull you out of the monotony and entertain your nuts out, irrespective of whether you're a romantic. This unconventional love story is a must-see for its elucidation of present-day romances.  It is unpretentious, romantic, has good music, a plain yet absorbing story and some genuinely terrific moments, emotional and humorous. So don't miss this one!