Deepika Padukone turns a year older and wiser today and we cannot stop ourselves from praising her. Deepika is one of the few actresses who has made a great career in such a short span of time. She has put in a lot of hard-work and dedication to achieve her accolades. Deepika is also one of the highest paid actresses in India and one of the most attractive personalities. Her acting debut was almost a dream for any newbie, she debuted with none other than the King Khan: Shah Rukh Khan in the movie Om Shanti Om.
There are more reasons than these that make Deepika Padukone so special. Take a look at why we think she is the real rockstar of the industry.
7 Reasons That Make Deepika Padukone The Real Rockstar Of Bollywood
1. She speaks her mind
The Om Shanti Om actress isn't just downright beautiful but extremely bold, too. Isn't that an irresistible combination?She doesn't hide away her problems, rather speaks about them openly. She spoke about her battle with depression and how she discouraged discrimination. She doesn't shy away from taking a stand and always makes her mark. Remember how she stood up against the objectification of women? She quoted exactly what her heart said and didn't sugarcoat her words.
"Instead of zooming in, circling it [cleavage] and pointing arrows at it, why don't we give her some 'respect' and let it go instead of making it 'headlines'!? Are we not human? Yes, we marvel, envy and drool over a male actors 8-pack-abs in a film, but do we zoom in on the man's 'crotch' when he makes a public appearance and make that 'cheap headlines'??!!"
2. She loves with all her heart
Deepika Padukone loves with all her heart and isn't afraid to publicly acknowledge that. She went till the heights of making a tattoo for her ex-flame Ranbir Kapoor and still hasn't gotten it removed. Doesn't this suffice as the biggest proof? The magic that Ranveer Singh, her current boyfriend and she create is absolutely relationship goals for everybody. They have the world gushing over them and how! From their public appearances to their sizzling chemistry in Bajirao Mastani and Ram Leela, the fans can never get enough of them. She makes sure she's there for all his important events. Indeed, she is a keeper!
3. She lets bygones be bygones
When people have a major breakup, they refrain from working with each other. Deepika Padukone broke that cliche and continued taking up movies with Ranbir Kapoor despite their breakup. They remained poised and professional and delivered a super hit film 'Yeh Jawani Hai Deewani' and never let us know once that they are going through a bad phase. She managed to recreate the same chemistry with Ranbir onscreen, without any qualms.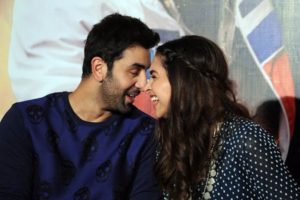 4. She is versatile
Deepika is proved that she can ace any given role. Versatlility is her middle name! Her movie graph has witnessed a meteoric rise – From an accented South Indian Meenamma in Chennai Express to the outspoken Leela of the blockbuster Ram Leela to playing a bespectacled Naina in Yeh Jawani Hai Deewani, the girl keeps pushing the envelope yet further with every consecutive release and is never afraid to experiment!
5. She is family oriented
There has been no moment when Deepika hasn't given the due credits to her family. She has done various ads with her parents, too. She is absolutely grounded and doesn't forget her roots. Deepika knows to make a perfect balance between her work and her family.
6. She is a sport finesse
Not everyone knows that Miss. Padukone is a national-level badminton champion, which makes her literally perfect. The stereotypical drive and confidence often exhibited by sportsmen and women are present within her as well: she plays hard and works hard. She sets her goal and diligently acts towards it.
"I try and work out as often as possible. Since I travel very often, it becomes very difficult to have a daily workout routine, but I practice yoga every day or try and play some sport. Also, I am very aware of what suits my body in terms of food and exercise."
7. She is set to go International
Deepika is all set to make her country proud by making her Hollywood debut. The beautiful actress will be seen in XXX: The Return of Xander Cage with Vin Diesel. She said it's her background that helped her bag this film and she will get the opportunity to flaunt her ethnicity through this movie. Now, isn't that a proud moment? We can't wait to see her debut.
Happy Birthday, Deepika! May you give us many more blockbusters.