Have you seen the movie called 'Raja Ki Aayegi Baraat'? If not, don't bother … it's a disaster. But again, on second thoughts, I'd suggest go ahead and see as much of it as you can tolerate, the next time it is aired on the television. When you see the short, fat-ish, dark, firebrand protagonist, you can't help marveling at how she's now metamorphosed into the damsel who now rules the hearts of millions of Bollywood fans the world over. She may not look her best in her earliest movies, but you can't mistake the twinkle in her eyes every time she smiles and the earnestness of her act which makes some of her earlier B-grade movies worth a watch.
Had there not been a 'Kuch Kuch Hota Hai', we might have discovered Rani a lot later, but the sheer talent which was so obviously oozing out of her even in her early movies, was something the world couldn't have ignored for long. Rani Mukherjee got her first big break in Karan Johar's K2H2 after virtually every other "big" heroine had rejected the role of Tina. Karan saw that rare spark in Rani's work, and after being left with no other option, he signed her on. Rest as they say, is history. I am sure nobody regretted that, except, of course the spate of actresses who'd rejected that role for lack of "meatiness".
Talent Vs Success Graph – A study in Rani-ology:

Rani Mukherjee and Konkana Sen Gupta in 'Laga Chunari Me Daag'
Rani Mukherjee has a long portfolio of movies and her most memorable roles include the early gems like 'Ghulam', 'Kuch Kuch Hota Hai', 'Saathiya', 'Chalte Chalte', 'Yuva', 'Bunty aur Babli' and 'Hum Tum' and the more recent 'Khabhi Alvida Na Kehna' and 'No One Killed Jessica'. Her most acclaimed work is undoubtedly the role of the deaf-dumb-mute girl, Michelle McNally in 'Black'. Equally long is the list of forgettable movies. Movies like 'Chalo Ishq Ladayein', 'Hello Brother', 'Bicchoo' and 'Kahin Pyar Na Ho Jaaye' did nothing for her, except probably show her what did not work for her.
Despite her impressive list of movies, recent times have seen Rani receiving lots of flak for her bad choice of roles ('Dil Bole Hadippa', 'Thoda Pyar Thoda Magic'), disastrous wardrobe ('Ta Ra Rum Pum') and well intentioned yet failed ventures ('Mangal Pandey', 'Paheli' and 'Laga Chunari Me Daag'). Interestingly, almost all of her major flops in the recent times are from the Yash Raj Banner, the company with which she shares a very "special bond" for several reasons.
After more than a decade in Bollywood and a very successful run at the BO, a dry spell began. Rani failed miserably and consistently at reproducing her old magic on screen. Critics wrote her off and fans awaited one hit to start cheering again. Despite of what the detractors said, the fighter that she is, Rani re-emerged with 'No One Killed Jessica' and proved once again that she can still carry off movies solely with her name. This Bong beauty has managed to do a whole spectrum of movies ranging from the bubbly Vimmi of 'Babli aur Bunty' to the dissatisfied woman of Maya in KANK.
RSQ – Rani's Style Quotient:
K2K2 worked wonders for Rani and gave her what she actually needed at that point of time – a big hit. However, her metamorphosis was incomplete. Her emergence from the awkward, powder-coated, dark-skinned and awkwardly-dressed girl in Kuch Kuch Hota Hai into the beautiful girl-next-door in Chalte Chalte marked the beginning of what was going to be a steady upward rise in her styling and looks. Her designers and she herself must have discovered that she looks great with kajal (no, not Kajol .. though she looks great with her too!) and subsequently she carried that kohl-lined and long skirts/saree look in several movies like Chalte Chalte, KANK and Veer Zara. Added to that, is the fact that she lost a lot of weight since her 'Ghulam' days which made her look so much less chubby and has made her expressiveness get more acute. Of course, she doesn't have a figure to die for, and her small frame doesn't help either, still whenever she's had to wear short dresses she's managed to look ravishing. Not only did she carry off with aplomb the short dresses of 'Bunty and Babli' but also sparked off the "Bunty Babli collared kurta" trends in female wear. Her long hairs (except for the hair disaster that Ta Ra Rum Pum was) have always been her highlight and they do something to accentuate the strange sadness in her eyes.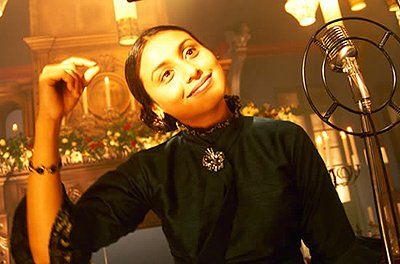 Undoubtedly, Rani's biggest style quotient has always been her talent which made her rise above and which goes far beyond the physicality of the character. She was the soul as well as the body of Michelle McNally in Black…you just can't imagine anybody else there. Her oh-so-expressive eyes expressed more than all the dialogues could have combined.
Rani defied convention, gave a new meaning to the words "girl next door" and redefined what kinds of roles are written for the Indian heroine.  Even in her 30s, this heroine-of-substance is "hot property" box-office wise and has several great projects waiting at her doorostep.
He was an intelligent man (okay, maybe a woman) who observed "all the best things in life come in small packets". Rani Mukherjee is surely a small packet – but a lethally powerful one.