Movie halls have always been places where we escape to, where we hope to leave our woes and concerns outside the door. We spend some time watching other people make a fool of themselves, or watch something that makes one feel that all izz well with the world. Our desire to come out of the movie theaters happy and smiling is one of the major reasons why lately, we have been inundated with a series of movies which traverse the path between comedies and happy takes on the life of the youth of India.
This genre of films has always been there and if made a little sensible (i.e with a decent story line and structure to them),  they tend to do well at the office. A major difference however is that in the earlier decades lighthearted movies usually didn't have a problem to solve. That is to say, if a movie was a comedy or even in the whereabouts, the topic of the movie would certainly not be anything worth mentioning. As a general rule, there would certainly be nothing worthwhile going on over there. In recent times however there have been a much larger number of this variety of movies and what's more important is that they are usually dealing with a specific problem based storyline. Today, we would like to have a quick, rather irreverent look at why some of these delightful films have become so popular.
Simple story lines:
Most of the stories concern the youth of today and their problems and concerns. Convoluted plots, too many characters with interweaving sub-plots and stories which go beyond the realm of everyday life – are NOT a part of these films. Here they focus on stories which are believable – at least to some extent – and on events which most people can relate to. 3 Idiots, Wake Up Sid, Band Baaja Baraat are just a few of the films which fall into this category.
No Villains:
No one ever believed that there could be a filmy story which did not have a leering cross-eyed villain in it with only evil on his mind. But films like Jab We Met, Salaam Namaste and 3 Idiots proved that a villain is an expendable part of a film, unless of course you can call Boman Irani's role as a hapless principal – a villainous role. Any problems they have in their own lives are of their own making, not due to the machinations of other people. After all, how many villains have you encountered in your daily lives?
Smiles and Laughter are a part of the package:

Wake Up Sid picked up the story of the aimlessness of the rich young Indian, but made us smile while we watched him come to terms with reality. 3 Idiots dealt with the drawbacks of the Indian college education system, yet we understood and appreciated the joy and camaraderie shared by the three friends. Band Baaja Baraat showed us how difficult it is for young people to set up their own business, but they did it with light-hearted comedy and without drowning us with platitudes.
No pontificating or homilies or moral sermons:
If you want to get a message across to the youth, you can only do so by enveloping it in a cloak of laughter and relevant stories. Khosla Ka Ghosla and the Munnabhai series were films where issues such as corruption and lack of moral ethics were tackled, but without making you feel like a student in a tough school. There are not going to be too many takers for a film where discourses and morality stories are the main ingredients.
Change in the environment: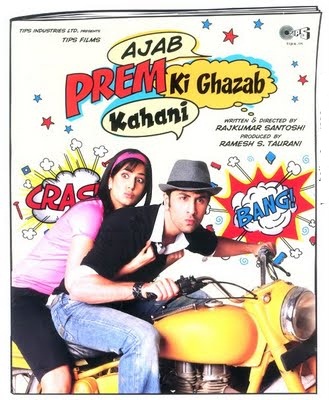 The stories and the scenarios are changing, and definitely for the better. The differentiating factor remains the change in focus from the family and the "mohalla" to the workplace and the social circuit. The youth of today are effervescent and lively. They work in surroundings where their creativity is given a free reign, and they do not relish stuffy bosses and even stuffier atmospheres. All this is being reflected in the change of environment in the films. There is colour everywhere, there is informality and above all there is a casual approach to life in general, but with a focus on the future. This is a tangible tone through films such as Tanu Weds Manu, Band Baaja Baraat and Ajab Prem Ki Ghazab Kahani.
Let us sit back and enjoy these films and also savour the message they are getting across to us, and above all realise that the world is not a very difficult place to live in. You can enjoy yourself and be happy and yet succeed in what you are doing, and yet cope with all the turns and twists life offers you. The "feel good " factor can become a part of our daily lives also – after all films only mirror reality as they see it.