Have you ever walked out of a movie hall feeling a sudden surge of patriotism? Or maybe, frustration at the current political system in place in our country?  Felt resentment towards those who indulge in racial/caste-based discrimination? Or, the pain of those suffering from acute poverty or some congenital disorder?
I'm sure most of you have felt one or more of the above after watching some Bollywood film. Such is the power of cinema nowadays. It can invoke in us sentiments that we don't ordinarily feel for our country or our brethren.
While it's not new to base movies on social or moral issues, the kind of success such movies with a message have begun to enjoy in recent times is encouraging. The fact that more of such themes are being explored by mainstream cinema shows not only a change in the mind set of movie makers but obviously in that of the audience they cater to as well.  Several movies have been made in the past related to India's freedom struggle, the underworld and its links with politics, and terrorism.  But it seems that Bollywood has of late broadened its horizons to include issues like farmer suicides and dyslexia in its concepts.
Starting Young
Movies such as Rang De Basanti and 3 Idiots targeted the youth in particular, though the latter had a message for the parents too. RDB sent out a message to the youth, loud and clear – stand up against the wrong doings and corruption prevalent in the political system.
Perhaps drawing inspiration from a scene in this movie, marches and peaceful protests at India Gate have become a common way for the people to demand justice since then.
In 3 Idiots, through the characters of Rancho, Farhan and Raju, the makers tried to inspire the youth to choose the career path that they WANT to follow and not one that people in the society THINK they ought to follow.
Udaan too, in talking about teenage angst and the stereotype about engineering being the sole path to success, had a hint of an inspirational film type feel to it.
Making it Globally Relevant
Bollywood has even ventured on to make movies based on internationally relevant issues. New York tackled the issue of immigrants being labelled terrorists in parts of the world post 9/11 based solely on their religion and showed how such typecasting was in some cases creating more terrorists than identifying.
A similar theme was also touched upon in My Name is Khan.  "My name is Khan and I'm not a terrorist"- that is the message SRK's character set out to convey to the US president in the movie.  And that is a message that many in the world need to understand.
On the other hand, A Wednesday was based on an issue closer to home as it explored the effects of terrorism and extremism on the common man in India.
Reaching out to the Common Man
Problems at the hands of which the 'aam aadmi' has suffered in India have also formed the backbone of many a movies. Peepli [Live] may have been made at a small budget but the manner in which it highlighted the situation of farmer suicides in India was commendable. It showed how the farmers are being pushed over the edge in order to save their farms and feed their families. It also exposed the sham of the compensation that is offered to them and how the media houses try to capitalise on such tragic situations in order increase their TRP's.
"]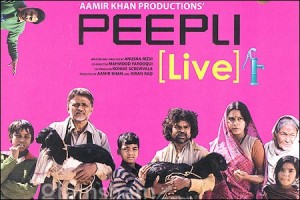 The film No One Killed Jessica, explores the popular Jessica Lal murder case and exposes the various lacunae that exist in our judicial system. Both these movies are not only based on relevant  and current subjects, they also paint a not-so-pretty picture of the disconnect between what is promised and what the citizens receive.
Spreading Awareness
Besides all these movies based on political issues, Bollywood has also produced some heart wrenching movies that sensitise the audience towards people suffering from disabilities. Taare Zameen Par sought to draw attention towards dyslexia, a disorder that can be broadly defined as a learning disability which impairs a person's ability to read. And the effort was certainly appreciated by all as the movie won a National Award for Best Film on Family Welfare.
There have been others like Paa and Black that have touched upon progeria (a rare genetic disorder) and the struggles of a deaf and blind girl, respectively.
What Makes them Special
So what is so special about these movies that they're being written about here, you ask?  It is primarily because it has been observed that such movies have done well regardless of whether they have eye-candies like Aamir Khan and Katrina Kaif featuring in them or some other incredibly talented actors. Although not all of them hit the jackpot at the box office, the accolades and awards they received made sure that their good work didn't go unnoticed.
Most of the movies which have been mentioned above proved to be hits and made a sizeable profit at the box office. For them, a thought provoking storyline and a well-established star cast proved to be an ideal recipe for success.  While New York went on to make 57,75,00,000, Taare Zameen Par made more than ten times its production budget of 12 crore grossing around 131 crores. Both My Name is Khan and 3 idiots proved to be blockbusters. Even a small budget movie like Peepli [Live] (with a budget of 10 crores) managed to earn over 29 crores besides the critical acclaim it received.
Touching the Right Chords
What is the reason behind the success of these movies that are based on real issues and provide food for thought?  It is probably the realism in these movies and their relevance in the present day world that make them easy to connect with. Sure, most of these movies have been dramatized to a large extent. But that doesn't take away the fact that the underlying issues that these movies touch upon do affect the audience. They get you thinking as they make you laugh at the subtle jokes or cry while you feel the pain of the characters on the screen.  And that is the intention here. Gone are the days when cinema was intended purely for entertainment. Of course, that is the primary purpose of films. But if they can help do something extra by sending out important messages then why not?  When made tastefully, these movies have the power to touch hearts and inspire minds.
And the Heart of the Matter is..
All said and done, we need silly comedies to brighten up our day. The unrealistic action flicks give us an opportunity to experience the thrills that our daily lives are devoid of. The item numbers and cheesy love stories are an escape route for many from their mundane routines. But just once in a while, we need that cinematic experience that makes us aware of a real world problem and stirs in us some awareness, an opinion and occasionally, the desire to make a difference.