Out of personal conviction for aligning oneself with a just cause, or to gain publicity for a recent release by attaching to a visible news story, Bollywood actors have a long history of being involved with political and social issues. The recent stir caused by Anna Hazare and his anti corruption movement has been unprecedented in that it has spurred people to protest not only in India but also to register very vocal protests from the United States to the United Kingdom, Australia and others, and which has provided a platform for Bollywood celebrities also to align themselves with a worthy cause.
What Anna Hazare's Anti Corruption movement is all about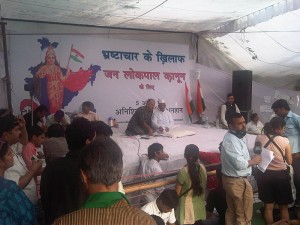 In the past year of scams that was 2010 – kick backs and bribes related to the Commonwealth Games, the 3G Scam and many others, public ire with corruption in governance was high; the time was ripe for a people's movement that sought to correct all that is wrong with our country. It was a opportune time, then for Anna Hazare to launch his demand for speedy tabling of the Jan Lokpal Bill that has long been languishing for neglect from the political powers that be.
The Jan Lokpal Bill is meant to enable an independent body that will speedily investigate and dispose of cases relating to corruption in public life and Hazare's fast was meant to ensure that the bill got tabled this Parliament Monsoon Session.  A population grown weary of corruption holding back national progress at every step latched on to this, creating an unprecedented Anti Corruption Movement that transcended national borders, with candle light vigils, fasts, rallies and numerous online petitions, tweets and blogs making this an international issue.
Certainly a worthy cause and so small wonder that the glitterati from Bollywood have chosen to align themselves with this spontaneous people's movement against corruption.
Bollywood Stars who have lent support to Anna Hazare's Movement
That Aamir Khan who has always been well known for having a social conscience, has aligned himself with the cause is comes as no surprise. He went a step further than most and wrote a letter to the Prime Minister calling attention to the point that Anna was trying to make with his fast unto death campaign.
And then Bollywood used its favourite weapon of recent times, Twitter to air its views –
Just read about Anna Hazare. It's incredible to see the support he has received from across the country. Also what's remarkable is the uprising of the youth of our country in support of Anna Hazare. I pledge my support to this cause, tweeted Priyanka Chopra.
If corruption is our reality all of us are collectively responsible, tweeted Shahid Kapur, and went on to thank the veteran Gandhian for reminding him about this fact.
Sonakshi Sinha went rather overboard when she gushingly tweeted, It's usually one person that makes a difference. Mahatma Gandhi, Dalai Lama, Abe Lincoln, Mother Teresa. Kudos Anna Hazare
I support Anna Hazare in his movement. Its TIME to make a CHANGE!, said Hrithik Roshan in his tweet
Other noteworthy quotes about the movement from Bollywood personalities were –
Bipasha Basu thought that Hazare's victory shows strength of people and our democracy. It is a very positive sign for India. Corruption is our biggest enemy.. We need a hazaar Hazares in our country.
Shabana Azmi thought Hazare's triumph was a foregone conclusion in a nation that has "suffered enough", and according to her, this groundswell of support received by Anna and his movement proves that "people matter."
Mahesh Bhat was typically forthright when he said that we are all part of the problem since we all contribute to the corruption. We have miles to go before Anna's victory paves the way for a corruption-free India, he said
Veteran actress Hema Malini echoed similar sentiments when she said that this is a great victory, but is it that easy to take it forward?
Anupam Kher came out heavily in support of Anna Hazare, not only supporting the Gandhian but also attacking politicians for ignoring reality and failing to support a just cause. Kher went so far as to call the very constitution of the country into question, for which he has invited the ire of Maharashtra Assembly and had his home attacked by Republican Party of India (RPI) workers.
A bit of brouhaha was created when a commentator on the Blog of Amitabh Bachchan accused him of not supporting the people's movement and Anna's agitation because he was "busy amassing wealth for 10 more generations." The Big B clearly took great offence and issued a clarification on his blog, "I do not have to preach and shout out my allegiance towards my country from every roof top every day. My loyalty is not up for questioning and is not, most certainly, in a realm where it can be doubted."
And it could be that Amitabh Bahchchan was rather reluctant to voice his support on a matter that we the people know only one side of which may actually be prudent.
In her recent article, Tavleen Singh pointed out some very relevant flaws in the proposed Jan Lokpal Bill, and it's very undemocratic nature; which many either do not know about, or are choosing to blithely brush aside in the romance of being part of a "people's movement" the like of which has been causing such historical changes in the Middle East recently. While her tirade against Hazare trying to "ram (the bill) down our throats" may be excessive, her claim that that Hysteria will not end Corruption is a very justified one.
Most of us have in fact not bothered ourselves with the nitty gritty of the bill, choosing only to applaud the efforts of an admittedly admirable man, and hoping that by doing this, we absolve ourselves of the responsibility of doing anything else to end corruption in our society.
How many of us, for instance, have pledged never to pay a bribe ever again in our lives? How many of us have decided to make sure that we do all that we can to bring a guilty person to book even at the cost of inconvenience to ourselves? Have we made any such promises to ourselves, our community and our country?
Signing online petitions and participating in a one-off candlelight vigil is really not enough. If we have made any kind of long term commitment to ourselves and society then we can say that we have made a difference; to imagine that anything else will make a difference to our corrupt country and its corrupt governance is just shortsighted and delusional – and foolish.