Bheja Fry was a small budget film that nobody has expected to succeed and which eventually everyone ended up watching and liking. Now to cash in upon the brand value, we have it sequel which has one essential ingredient in place – Vinay Pathak, except for him, there seems to be nothing in the Bheja Fry 2 trailer that is reminiscent of the prequel.
Anyways, as is visible in the Bheja Fry 2 trailer, Bharat Bhushan is again intent upon frying up the bhejas of everybody involved in his life… and even manages to fall in love this time around (Minissha Lamba may actually get some mileage out of this to save her plummeting career). The Ishq ka Keeda song is intended to be a fun song and Ishq Bector makes sure it does get on your nerves after hearing it couple of times.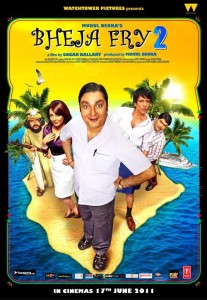 For me, Rajat Kapoor's absence sticks out like a sore thumb and though the movie boasts of other very good actors like Amol Gupte, K.K. Menon and Suresh Menon, this outdoor comedy clearly seems to be lacking the edginess that the Rajat Kapoor-Milind Soman-Ranveer Shorey-Vinay Pathak team had lent to Bheja Fry. Moreover, this one looks more in the genre of misunderstanding-leading-to-wild-goose-chase kind of comedy. The director remains the same (Sagar Ballary) and except for him and Pathak, the entire cast (and the producer) does not have anything common with the prequel. Really sorry for doing all these comparisons, I just can't help myself when I was looking forward to another great bit from Rajat Kapoor and Vinay Pathak, I find myself very disappointed. In all fairness, each movie should be evaluated on its own merit.
The story of Bheja Fry 2 revolves around our dear Bharat Bhushan winning a game show and getting lots of money and a trip on a cruise. Taking that cruise makes him connect with all kind of people, who are all there on their own agenda.
Bheja Fry 2 releases June 17, 2011.
Enjoy the trailer of Bheja Fry 2