The trailer of the movie 404 shows you little more than a maze of square shaped images with words such as unknown and horror thrown in for good measure. You are unable to get any sense of what the movie is all about – except maybe a feeling that they are deliberately playing upon the mystery angle of the story – thereby inducing you to watch the film after it's release.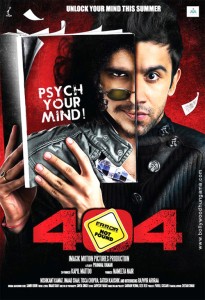 404 –( I wish they would elucidate why they chose an error message as a name? Maybe it is the number of the mysterious room?)  has been directed by Prawaal Raman and has been produced by Nameeta Nair. The film stars the newcomer Rajwir Aroraa in the main lead with supporting performances by Imaad Shah, Satish Kaushik and Tisca Chopra.
The story is about the conflict between rationality and beliefs. The setting is of a prestigious medical school, and the conflict is between a world renowned professor and his rational and brave student Abhimanyu. The student decides to defy tradition and superstition by moving into a room which has been unoccupied for many years. The ensuing events shake both of them up. Abhimanyu learns to accept that there is a lot which cannot be explained and the Professor begins to realise that the world cannot rely too much on superstition and beliefs which do not have a place in reality.
"Do you believe what you see….or….see what you believe? "
An age-old question – will they be able to answer it in this film?
The posters ask us to "Psych your Mind " – and so does the trailer.
So far it looks like this film traverses between being a horror film and a mystery film.
Let us wait for the month of May to find out whether they have managed to retain our interest and answer the question.